October 31, 2012 -
Dan Pompei
Scout Talk: Trade bait
With the trade deadline approaching Thursday, let's look at the four big name players whose names have been bandied about, through the eyes of pro scouts.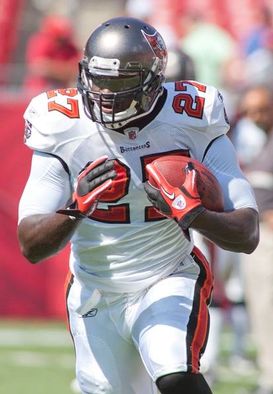 ICONTampa's LaGarrette Blount.
LeGarrette Blount, Bucs RB: Here is the problem with Blount, according to one team executive. "He is a one dimensional power back who has not been effective in short yardage or on the goal line." That explains why a former 1,000 yard back might be available and why his trade value is limited. Blount is effective between the tackles, and can be physical and difficult to bring down. But he needs a running lane. He is not very explosive and he struggles to create momentum in traffic. He also has had ball security issues.
Dwayne Bowe, Chiefs WR: Of all the players who are rumored to be available, front office men find him the most intriguing because they believe Bowe could be capable of becoming a better player. At 28, Bowe still is on top of his game. He never has played with an elite quarterback. And his combination of size (6-2, 221) and athleticism is pretty rare. "He creates mismatches with his reach and athleticism," one front office man said. "He has high point ability and is physical. He doesn't have great speed, but he runs well enough." Bowe comes with a buyer beware, however. He has been an inconsistent producer, in part because he has a history of sometimes being out of shape and not always committed. If a team thinks it can motivate Bowe and put him in a good situation, he might be worth taking a risk if the trade compensation and contract situation can be worked out.
Steven Jackson, Rams RB: For a 29-year old runner with a physical running style, Jackson still is an effective power back with some explosion. His average per carry is down a bit this year, but he still is running well. He is big, strong and difficult to take down. Jackson isn't much of a home run threat, and his long run this season is only 23 yards. Jackson is best between the tackles. He doesn't offer a lot in the passing game or on perimeter runs. He can help a team this season, but given his age Jackson can't be looked upon as a long term solution. That limits his trade appeal.
DeAngelo Williams, Panthers RB: At 29, Williams could be in decline. "I don't see the burst and explosion I saw in the past," one scout said. "I don't know what's wrong with him, but he doesn't look the same." Williams has not had a good season since 2009, and he has a pretty extensive medical history. He hasn't had many opportunities and is averaging just 3.4 yards per carry. Williams is a short, compact runner who has made a living on his quickness through the hole and speed for outside runs. His contract likely will be an impediment to any potential trade.
Dan Pompei covers pro football for the Chicago Tribune at chicagotribune.com