March 03, 2011 -
Dan Pompei
Seeing double
Mike Pouncey came into this world first, but Maurkice Pouncey came into the professional football world first, and Mike Pouncey may be the beneficiary of that.
They may be identical twins, but they are not identical players, and the challenge for NFL teams is to look at Mike and not see Maurkice.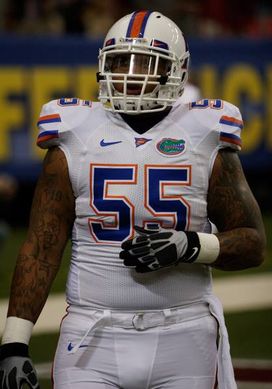 ICONMike Pouncey reminds scouts of his twin brother -- and that's not a bad thing.
NFL scouts are acknowledging that Maurkice's success with the Steelers as a rookie is hard to ignore when they are assessing his twin brother. "Even if it's subliminally, his brother's success is a factor," said one AFC college scouting director. "The fact that his brother played so well so quickly and has been a good character guy, a leader and shown maturity all reflects well on Mike. And everyone you talk to down at Florida loves both of them."
When I have asked different scouts what they think of Mike Pouncey, the first thing out of their mouths usually is a comparison to Maurkice. I've heard, "He's not as good as his brother," several times. I also heard, "He compares to his brother well, and the fact that his brother played so well makes him more appealing."
Their bodies are virtually undistinguishable, with the exception of tattoos. At the combine this week, Mike was 6-5.0, 303 with an arm length of 32