January 12, 2011 -
Dan Pompei
Should the Eagles trade Kolb?
If you are Eagles coach Andy Reid, of course you want both Michael Vick and Kevin Kolb on your roster next season. It's your best chance of being a good team in 2011.
But if you are Eagles general manager Howie Roseman, you might not be so sure.
It is the job of the general manager to look out for the longterm interests of the franchise. And in this case, the best interests for the Eagles longterm might be to trade Kolb.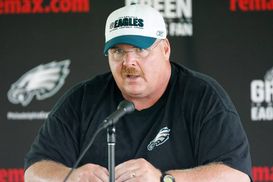 ICONEagles coach Andy Reid has an interesting decision to make in the offseason regarding his quarterbacks.
Reid can take a bigger picture view than a lot of head coaches because he's with a stable organization and he has earned his keep. He doesn't have to prove himself year to year to the same extent many of his peers do. So ultimately, he may be fine with trading Kolb.
Really, whether or not Kolb goes should depend on what the Eagles can get for him. To determine Kolb's trade value, let's look at some recent comps — young backups who were dealt to compete for starting jobs.
Last year the Chargers moved up 20 spots in the second round and received a third-round pick for Charlie Whitehurst.
The Patriots received a second-round pick for Matt Cassel and Mike Vrabel.
The Falcons traded Matt Schaub for two second-round picks and a move-up of two spots in the first round.
The Eagles, known as a team that maximizes what it gets in return on trades, might want more than any of those teams received. And that would be completely understandable. The Eagles received a second-round pick and a fourth for Donovan McNabb, who is seven years older than the 26-year-old Kolb. It's difficult to envision them accepting less for Kolb.
The National Football Post surveyed three front office executives from different teams, and each said if they were running the Eagles they would accept a first-round pick for Kolb.
What any team can get in a trade is contingent on supply and demand. There aren't many quarterbacks who are exciting teams in the draft, and Kolb probably will be the most attractive veteran available (unless you buy into the fact that your coach can manage Vince Young).
Every team needs two potential starting quarterbacks, and the Eagles might need a strong No. 2 more than most teams if Vick is their starter. As one personnel director pointed out, no one can be completely sure about Vick because of his off-field concerns, durability issues that result from his playing style (injuries caused him to miss games at two points last season) and his contractual status moving forward (he likely will be playing on a one-year franchise tag).
What's more, Vick had a career season, and, one pro personnel scout pointed out teams started to figure him out a little bit towards the end. In his first nine games, Vick had a 105.7 passer rating, throwing 15 touchdowns and two interceptions. In his last four, including the playoff loss to the Packers, he had an 84.4 passer rating with seven touchdown passes to five interceptions.
"If they can't get great value for Kolb, I would keep him," one NFC general manager said.
The Eagles would be justified if they held out for a first-round pick for Kolb. That would be a deal a coach and a general manager could agree on.
Dan Pompei covers pro football for the Chicago Tribune at chicagotribune.com.