April 27, 2011 -
Dan Pompei
Some personal favorites
As the draft approaches, some front office men like to make a list of some of their favorite players at various points of the draft. Here are some of mine.
High first round – Julio Jones, Alabama wide receiver. I like the fact that Jones, with his toughness and relentlessness, is going to help give some offense an identity. There aren't many wide receivers in the NFL who do that. Hines Ward does. Anquan Boldin does, and maybe a couple of others. Jones is more talented than most of them.
Middle first round — Ryan Kerrigan, Purdue defensive end/outside linebacker. You can't coach a player to play with Kerrigan's intensity and passion, but when you have a guy like Kerrigan, it can rub off on others around him. If Kerrigan's skill set translates to the NFL, he has what it takes to raise the bar on a defense.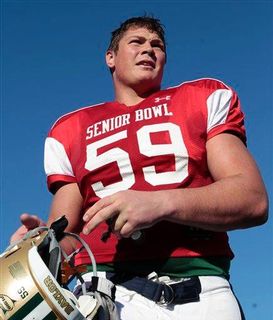 Watkins is someone you'd rather have on your sideline than on the other team's sideline.
Late first round — Danny Watkins, Baylor guard. One of the things you want from a first round draft pick is the ability to lead. You want a first round pick to be a franchise cornerstone. Watkins can be that. He is tough. He is mature. He is focused. He is passionate. Oh, and he also can knock your defensive tackle on his keester. Watkins also is one of the safest picks in the draft. The only reason not to take him is he's 26 years old.
Second round — Christian Ponder, Florida State, quarterback. I know he probably won't be around in the second round, but I can dream, can't I? If Ponder had not been injured last season, there is a chance he would have been the first overall pick of the draft. Because of his arm problems, he wasn't the same player as a senior that he had been previously. Assuming those problems are not going to be continual, Ponder could be a steal if he slides a bit. He is the most NFL ready of any quarterback in the draft. He is an amazing athlete. He's incredibly bright. He's a top-shelf leader. He can't throw the football through a wall the way some quarterbacks can, but arm strength is the most overrated attribute in a quarterback. Ponder can make all the throws. If he can take an NFL pounding, there is no reason why Ponder shouldn't be a Pro Bowl caliber quarterback.
Third round— Mason Foster, Washington middle linebacker. Foster was a tackle machine in college, and the reason is he found the football faster than anyone else. He isn't the fastest or most athletic linebacker, but he probably is the most instinctive. He was as impressive in interviews with NFL teams as he was on the field. Foster can explain schemes and the responsibilities of players at other positions. Every defense needs a smart, tough leader in the middle like Foster. You win with guys like this.
Fourth round— Mark LeGree, Appalachian State safety. At this stage of the draft, you can gamble a little. And LeGree, a small school star, is definitely worth a roll of the dice. LeGree is big enough, and he has excellent eyes, speed, athleticism and hands. He probably won't be the kind of interception machine he was at Appalachian State, where he had 22 picks, but he should be a takeaway threat. It might take him some time, and he'll probably never be a real physical player, but eventually LeGree could become a very solid NFL starter.
Fifth round— Vincent Brown, San Diego State wide receiver. He might slip a little because he did not work out very well at the combine (4.68 40 yard dash). But Brown can play. He showed it at San Diego State, and at the Senior Bowl. He is a polished receiver who runs good routes and has excellent short area quicks. His hands are soft. He might not make as many big plays as he did in college and likely won't be a star, but he should be an asset to an NFL team as a crafty No. 2 or No. 3 receiver with all-around skills.
Late round— Julius Thomas, Portland State tight end. This would be a pick based on potential. He's not going to be productive quickly, and he's never going to be much of a run blocker. But he could be an excellent weapon in the passing game. Thomas played four years of basketball and walked on to the football team as a senior. He had a nice senior season, then tore it up at the East-West game. We've seen former basketball players turn into tight ends before (Antonio Gates, Marcus Pollard). Thomas has some of the movement skills that could translate very well to the NFL.
Dan Pompei covers pro football for the Chicago Tribune at chicagotribune.com.