April 25, 2011 -
Dan Pompei
Taking a hog early is the way to go
There never has been a better time to draft an offensive lineman in the early rounds, and many teams are expected to take advantage of it early and often later this week.
There are several reasons for this. The first is there is an abundance of blockers with high round grades this year. It's one of the better years for offensive linemen from a depth perspective that the draft has seen in a long time.
According to front office men I've spoken with at least 17 offensive linemen carry grades that merit them being picked in the top three rounds, including seven players in the first. Some teams may have as many as 20 blockers with grades that put them in the top three rounds. There isn't one player who is a consideration for the first overall pick, but Tyron Smith of Southern Cal could go as high as the top 10.
Any team looking to make a safe pick should look at an offensive lineman. The bust rate is considerably lower for blockers than it is for most positions. Over the past five drafts, 31 offensive linemen have been chosen in the first round. Of those, the only one I would classify as a full-fledged bust is Andre Smith, chosen by the Bengals with the sixth pick in the 2009 draft. You might make an argument for Chris Williams of the Bears, and, while he has been a disappointment, at least he has been a starter for two years.
Even if a team takes a tackle and the player struggles at the position, they can always kick them inside to guard, like the Raiders did with Robert Gallery, the second overall pick in 2004.
Not only do offensive linemen picked in the early rounds seldom turn into busts, they often become impact rookies.
STATS rates effectiveness of NFL offensive lines in the New York Life Protection Index by using a proprietary formula that includes length of pass attempt, offensive line penalties and sacks, hurries and knockdowns allowed. And the Index shows a direct correlation between drafting an offensive lineman in the first round and an improvement in the Index number the following season. Since 2006, 14 of the 23 teams that drafted an OL in the first round and had him start at least 10 games increased their Index number.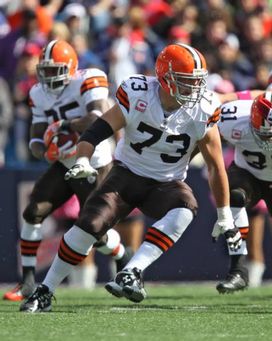 Joe Thomas is a good example of how a high round offensive lineman can improve a team.
For an example, look to Cleveland. After the Browns chose Joe Thomas with the third pick in the 2007 draft, they shot up by 42.8 Index points. They also went from four victories to 10. The Jets' Index number rose 30 points in 2007 after taking both offensive tackle D'Brickashaw Ferguson and center Nick Mangold in the first round. And Ryan Clady all but himself improved the Broncos' Index number by 24.2 points.
There is another reason why taking offensive linemen high makes more sense now: developing late round blockers or undrafteds has become increasingly difficult. Teams often don't have the time, patience and coaching/system continuity to stick with young, raw blockers. They often are more inclined to bring in a veteran free agent or player off the street with experience than trust a greenhorn.
Last week Bears general manager Jerry Angelo indicated in a press conference that years ago he felt teams could get away with not taking blockers high by developing late round offensive linemen. "I don't feel as strongly about it now," he said.
What Angelo and other general managers are feeling strongly about is taking an offensive lineman early is a good bet.
Dan Pompei covers pro football for the Chicago Tribune at chicagotribune.com.