November 25, 2010 -
Dan Pompei
Thank you, NFL
We who love the NFL have much to be thankful for today. Here is my list.
*For all those who are sacrificing their holiday and time with family and friends to bring us three football games today.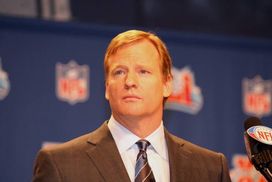 ICONThe commissioner is one of the things that's right about the NFL.
*For a commissioner in Roger Goodell who cares deeply about the game and is vigilant in his efforts to make it better. You and I may not always agree with everything he does, but we should agree that he is a strong leader who has made the NFL a better league and continues to do so.
*For second chances. We've all had them, we'll all need them again. Without them, we wouldn't be enjoying the magnificence of Michael Vick. Or the efficiency of Ben Roethlisberger. Or the power of LeGarrette Blount. Hopefully lessons have been learned.
*For the good health of our favorite players and teams. Some have more than others to be thankful for in this area. The case of Titans offensive coordinator Mike Heimerdinger, who is suffering from cancer, puts it all in perspective. Don't forget him in your prayers today.
*For legends we are privileged to observe who we one day will tell our grandkids about—men like Peyton Manning, Tom Brady, Brett Favre, Ray Lewis and Bill Belichick.
*For the entertainment value of Rex Ryan's New York Jets.
*For incredible young talent like Sam Bradford, Ndamunkong Suh and Dez Bryant. It's going to be fun to watch these players grow.
*For aging vets who still provide leadership, example and grit. Thinking of guys like Tony Gonzalez, Darren Sharper, Casey Wiegmann, LaDainian Tomlinson, Lawyer Milloy and Olin Kreutz.
*For the type of playing field that enables a team like the Bucs to come out of nowhere, surprise virtually every observer and contend for a playoff spot.
*For offensive minds like Mike Martz, and defensive minds like Dom Capers. Their strategies fascinate us and give us so much to think about.
*For the intensity and tenacity with which athletes like Clay Matthews, Adrian Peterson, Peyton Hillis, Cortland Finnegan and Anquan Boldin bring to their games.
*For the precision which players like Philip Rivers, Drew Brees, Jake Long, Nnamdi Asomugha, London Fletcher and Reggie Wayne operate.
*For the draft, for forever reminded us that talent evaluation is an inexact science. But a fascinating one.
*For all the coaches, innovators, administrators and players who came before and made this game what it is.
What are some of the NFL blessings you are thankful for?
Dan Pompei covers pro football for the Chicago Tribune at chicagotribune.com.