September 26, 2013 -
Dan Pompei
That's that
It was essentially a fait anxiously waiting to pair up with an accompli (a term that basically translates into "done deal," for those lacking a foreign language dictionary) ever since it became obvious a couple weeks ago that Tampa Bay second-year coach Greg Schiano and quarterback Josh Freeman were at odds and could no longer co-exist. And on Wednesday those fancy French words finally formed a connection.
Which is something, apparently, that Freeman and Schiano never accomplished in their brief tenure together.
No reason here, not even an attempt, to assign blame for a separation that will end in eventual divorce, no matter if the split comes via a trade, release or, with Freeman in the final season of his original rookie contract, free agency. Chalk it up to that old and hackneyed standby, "irrevocable differences."
But the pending exit of Freeman, who will probably never start another game for the Bucs unless there is an injury to new rookie starter Mike Glennon or some other cataclysmic event, drives home a few points: First off, success can be fleeting even for a player as abundantly talented as Freeman. Second, a quarterback and his performance are frequently a product of timing and system. And, finally, there are few pairings in sport as intimately linked as a quarterback and a head coach.
It is, acknowledged one AFC general manager whose franchise made a quarterback change a few years ago at the quiet behest of its coach, a symbiotic relationship.
"One kind of feeds off the other," the general manager noted on Wednesday, after the news of Freeman's demotion. "Their fortunes usually are tied to one another. They're basically in it together. You know, like conjoined twins."
Until, as was the case on Wednesday, one of the twins decides that he no longer wants to be fused at the hip. And then the painful surgery ensues to separate the two and permit them to individually move on. Make no mistake, the decision to part ways with Freeman was almost certainly a painful one for the Tampa Bay brass. As was noted in the Sunday Blitz column on Sept. 15, it was 2010 when prominent Bucs' officials told several media members that the team wouldn't trade Freeman for any player in the league.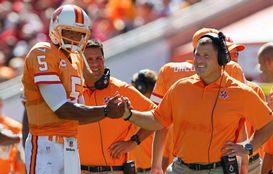 Josh Freeman and Greg Schiano during happier times.
I can recall that in the summer of 2009, when general manager Mark Dominik was ushering me through the Bucs' new and lavish practice facility, he made it a point to stop and introduce me to Freeman in a hallway. "This is a guy," Dominik said to me, "you're going to want to know."
What a difference a few years, along with a new coach, makes, right? Now the team would likely accept a middle- or even low-round draft choice for its '09 first-round selection. But even with such a modest price tag, there are elements – the fact few teams require a starter direly, the season at the quarter-pole, the money remaining on Freeman's five-year contract, and the reality that other clubs can merely wait until the spring and add the quarterback as a free agent – that could scuttle any potential deal.
For Freeman, only 25 and still blessed with considerable physical tools, it's likely neither the end of his career nor his time as an NFL starter. The history of the league is rife with examples of quarterbacks who flourished in second, even third, opportunities. For the Bucs, it's a step back, as it is for any franchise that strikes out on a high-round quarterback choice. But, increasingly, teams seem willing to take a step back in order to eventually advance a few steps forward. The Bucs are simply the latest team to retrench, at least temporarily.
In fact, if not quite a way of life in the NFL, pairing a quarterback and a coach with similar mindsets and philosophies has become fairly common. The left hand is, more often than not anymore, operating in sync with the right. It doesn't take a kind of mind meld, but the lessons in Cleveland and Tampa Bay the past week reflect the concert with which a coach and quarterback must work. The quarterback, it seems, is the on-field extension of the coach. And when it doesn't really click, well, the extension is unplugged quicker than in the past.
"You take (coach Mike Smith) and Matt (Ryan)," said Falcons wide receiver Roddy White of a coach-quarterback pairing that arrived in Atlanta together in 2008. "They have the same mindset. They're in tune with one another."
Clearly, the tune in Tampa Bay had become an anvil chorus. But anymore, such dissolutions aren't out of the ordinary.
Half of the eight new coaches in the league for 2013 changed quarterbacks. Buffalo's Doug Marrone acquired Kevin Kolb and then, when the veteran was injured, turned to rookie E.J. Manuel. Arizona's Bruce Arians dealt for Carson Palmer and Andy Reid of Kansas City traded for Alex Smith. And do you really think that Brandon Weeden is going to get his job back in Cleveland anytime soon from Rob Chudzinski? Chip Kelly in Philadelphia and Jacksonville's Gus Bradley threw the starting competition open before opting to stick with their incumbents. Only did Chicago (Marc Trestman) and San Diego (Mike McCoy) not consider changes.
And the trend began long before this season. What once was a vocation indicative of long-term stability has become, while not quite as fungible as some positions, one in which a starter's shelf-life is tenuous. And tied, in large part, to the man who's on the sideline, calling the shots.
It's ironic, but the presence of Freeman in Tampa Bay was supposed to have been a terrific starting point for Schiano. Less than two full seasons later, it is fin. Which, in case you don't already know, is basically French for "over."