February 04, 2011 -
Dan Pompei
The case for Richard Dent
Voting for the Hall of Fame is Saturday, and I'm excited to hear the presentations and debates about the 17 finalists. It's a very strong group, so it almost certainly should lead to a sterling group of Hall of Famers.
Probably the two most interesting positions are wide receiver and defensive end. There is a logjam of three at both positions. At wide receiver, it's Tim Brown, Cris Carter and Andre Reed. At defensive end, it's Richard Dent, Chris Doleman and Charles Haley.
It's possible all six men will be in the Hall of Fame one day soon, but it can't happen this year. When you have a number of strong candidates at one position, what tends to happen is they cancel each other out. I'd like to see at least one receiver and one defensive end get in this year.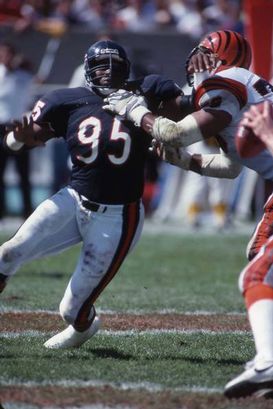 This was one of the fiercest pass rushers the NFL has seen.
I will be introducing the discussion for Dent. I think it's a very strong case. He has been a finalist now for seven years — longer than any other finalists. And he has made it to the top 10 five times. I don't understand why he hasn't gotten in up to now.
Let me tell you why Dent's case is such a good one.
His production compares favorably with any defensive end.
In 150 starts, Dent averaged 0.92 sacks per start. Only one defensive end in the modern era had a higher rate -- Fred Dean with 1.14 sacks per start. Dent's ratio was higher than top contemporary sack men Reggie White (0.87), Bruce Smith (0.75) and Michael Strahan (0.69).
Even though he played 15 years and had some less productive seasons towards the end, Dent also averaged 0.67 sacks per game, which is fifth highest among defensive ends with at least 100 sacks behind White (0.85), Smith (0.716), John Abraham (0.711) and Simeon Rice (0.70)
Dent had eight double digit sack seasons. The only defensive ends with more are Smith and White.
Dent didn't play in as many Pro Bowls as some players, so the perception might exist that he wasn't as necessary to his team's success as others. But the Pro Bowl is a popularity contest that does not always reflect reality. Dent was critical to the Bears. Consider this: in games in which Dent recorded a sack for the Bears, the team won 72 percent of the time. When he did not have a sack, they won only 39 percent of the time.
Dan Hampton may have been the heart of the Bears' great defense, but Hampton's won-loss record without Dent was 28-33 — a winning percentage of .459. With him, it was 75-21 — a winning percentage of .781.
Hampton and Mike Singletary already are in the Hall of Fame, and both players might have overshadowed Dent in some people's eyes. But Dent made more plays than either of them. Dent was the playmaker on the great Bears defenses. Dent had 33 forced fumbles to Singletary's 14. He had eight interceptions to Singletary's seven, 58 passes defensed to Singletary's 51.
Phil Simms, who competed against Dent many times, put it this way. "I always define people you play against or a player's greatness when you know the first thing you must do when you play him is, 'OK, what are we going to do about this guy?' And that's what we always said about Richard Dent. He was the first headache that we always dealt with. Dent was No. 1. It was always about him."
He also stepped up in big games. He was only one of two defensive linemen in the 42 year history of the game to be named Super Bowl MVP. In 10 postseason games, Dent had 10.5 sacks and four fumble recoveries. By comparison, Bruce Smith had 14 postseason sacks, but he played in twice as many playoff games as Dent.
I've heard it said that many of Dent's sacks were the result of Buddy Ryan's scheming, but the truth is 72 percent of his career sacks came when he was playing for a coordinator other than Buddy Ryan. This is what Ryan told me when I talked with him recently. "I used him in coverage a lot, and most defensive ends just rush the passer. But he paid the price so we could run the defense we wanted to run. He could have had a lot more sacks if I hadn't had him in coverage. He would have had twice as many in a normal defense."
And one more thing about Dent. He wasn't just a pass rusher. He was a great run defender. Over the 10 prime years of Dent's career, the Bears allowed an average of 98.3 rushing yards per game — lowest in the NFL. They led the league in run defense four times and were second once.
Sounds like a Hall of Famer to me.
Dan Pompei covers pro football for the Chicago Tribune at chicagotribune.com.