December 09, 2010 -
Dan Pompei
The legend of Tom Brady continues to grow
Tom Brady already has been named the 21st greatest player of all time by NFL Network, but his legend, like his hair, continues to grow.
He won his second straight AFC offensive player of the week award Wednesday, and he now appears to be in the pole position for league MVP. It would be his second, which would look good on the resume next to three Super Bowl rings, two Super Bowl MVPs and five Pro Bowl selections.
At 33 and in his 11th NFL season, Brady may still be improving as a player. Certainly, he is not regressing. "Look, he's doing a lot of things well this year," Patriots coach Bill Belichick told me. "Not that he's never done them in past, but look at the overall consistency, the quickness of reads, the decision making, the accuracy."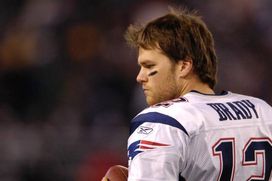 Brady ICONJust when you thought you had seen the best of Tom Brady, he pulls another trick out of his sleeve.
What stands out about Brady statistically is the consistency. He's done everything very well. It's not like you can find one thing he's done much better than he's done anything else, or like you can find one area where he's struggled. The advantage of being with one coach and in one system for an entire career is the gift that keeps on giving.
So far, this isn't Brady's best season. The performance he had in 2007 stands alone. But to date this is his second best season. And that's saying something. He leads the NFL with a 109.5 passer rating. He has thrown a league-best 27 touchdown passes. And he has not thrown an interception in his last 228 attempts. He has been picked off only four times all season.
But the numbers really can't capture Brady's value. To illustrate, Belichick pointed to a play in the Patriots' 45-24 victory over the Lions on Thanksgiving — the 79-yard touchdown strike to Deion Branch. The ball was not supposed to go to Branch on that play. "If we run that play 20 times, Branch hasn't gotten the ball twice," Belichick said. "To look at front side, see the pattern covered, come back to Branch, see his route adjustment on the play, and make a really good throw--you don't really draw them up like that."
Brady isn't thought of as a quarterback who is a great improviser. But he is a great improviser in the pocket — as that touchdown to Branch showed.
"That's what makes him great, seeing it, being able to make a quick adjustment, putting the ball right on the money, making a big play when it really wasn't supposed to do that," Belichick said. "You see [Michael] Vick do that by scrambling around, [Ben] Roethlisberger. You see Brady and [Peyton] Manning do it by staying in the pocket, knowing they have a little more time, finding somebody else, and putting the ball on the money. Those are the kind of plays they make. He's made a bunch of plays like that for us this year. Most quarterbacks, if the pattern is open, they should be able to throw it in there and hit it. It's the ones who can make something out of nothing — making a great read, a great throw, a great decision when the play breaks down, if you make a mistake in protection, or the defense makes a mistake. Those guys can get you out of a bad play and turn it into a good one."
Brady clearly is one of those guys.
For more on the Patriots, check back on Sunday in the NFP Sunday Blitz.
Dan Pompei covers pro football for the Chicago Tribune at chicagotribune.com.