December 15, 2010 -
Dan Pompei
The most incredible streak in sports ends
The most incredible streak in professional sports came to a quiet end Monday when Brett Favre stayed on the sidelines during the Vikings-Giants game. It would be incredible for any player to start 297 straight games. It is other-worldly for a quarterback to do it.
Only ten quarterbacks in NFL history got within 100 games of Favre's record. The closest, Dan Marino, stopped 52 games shy, or more than three seasons worth of games.
Peyton Manning is sixth on the list with a streak of 205 straight games. Some believe he will catch Favre, but he has several ultra-marathons and many Ironman triathlons to go before he gets there. Manning is 93 games away. He will need to start every game for more than five years with a body that will betray him in ways it has not in the past. Manning will be 40 years old when he is old enough to break Favre's record.
As much as I admire Manning, I'll be surprised if he gets there. I'll be surprised if anyone gets there, ever. So will an NFC personnel man I spoke with whose teams have gone against Favre near 20 times. "Peyton probably won't have that season when he should have retired a year earlier," he said. "He'll probably retire gracefully. I can't see anyone getting there. Who else would want that record? There never will be another Favre. How can you get tougher than him?"
These are the ten things a quarterback needs to get where Brett Favre has been.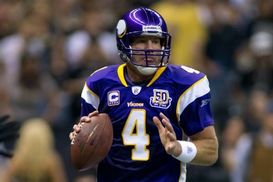 ICONIt finally happened: Brett Favre was unable to suit up for a game.
*Greatness.
You can't have bad seasons to last as long as Favre did. You can barely have more than a few bad games without risking a benching. And just being good isn't enough. You really have to be great, dominant almost. And you have to be consistent, week in, week out, year in, year out. You can't have a career of peaks and valleys. Of the ten quarterbacks with the most consecutive starts, six of them already are in the Hall of Fame, and two others, Favre and Manning, are slam dunks to get there. The only two who probably won't be Hall of Famers are Vinny Testaverde and Drew Bledsoe.
*Durability.
How do you stay healthy enough to start every game for the better part of 19 years in today's NFL? Genes have something to do with it. Favre's replacement, Tarvaris Jackson, didn't make it through one quarter before having to sit out a play, and he might not be able to answer the bell for a second straight start.
*Toughness.
At some point, will becomes the overriding factor in a streak like this. Favre is freakishly tough, as tough as any player who ever played the game.
*Longevity.
Favre needed to play until he was 41 years old to get to 297. In the history of pro football, only six quarterbacks have played at that age. Two of those, Earl Morrall and Doug Flutie, were not starters for much of their careers.
*Ability to avoid in pocket.
A quarterback can't be a statue and expect to stay healthy. He needs mobility, or at least the ability to sense pressure and dance around it. Favre had more of that than most.
*Ability to minimize hits.
Manning has a lot more of this than Favre ever did. Favre would take monster hits at times. Manning is better about throwing the ball away, taking a sack in a safe position if he has to, and living for another play. Sliding on runs also is helpful in this regard.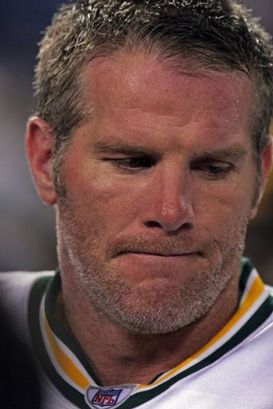 ICONThe longtime Packer.
*Organizational stability.
If a quarterback is playing on a losing team, it's likely the head coach and/or general manager will change. When there are new guys at the top, there is a reasonable chance they will want to bring in a new quarterback. Favre was blessed to play with one organization for 16 years. He had one coach, Mike Holmgren, for seven years, and another, Mike Sherman, for six. Ron Wolf, the general manager who traded for him, was in charge of the Packers for eight of Favre's years. That's rare. And of course, Favre had no owner to concern himself with for all those Packers years.
*The right offensive system.
Once he landed in Green Bay, Favre played in the same basic system for all but one of his 19 years. That is unheard of. Manning has had a similar run, with all 13 of his seasons being played in the same offense. And both offenses were ideal for the players.
*Offensive line.
You think Jay Cutler could last 297 games playing behind his offensive line? Think again.
*Luck.
On top of everything else, a player needs good fortune to endure the way Favre has. And he has had that too.
Dan Pompei covers pro football for the Chicago Tribune at chicagotribune.com.