August 11, 2010 -
Dan Pompei
The NFL's other safety issue
The trend crystallized with each rung Taylor Mays dropped in the draft.
The safety was widely regarded as a late first round talent going in, but four teams chose safeties before Mays went off the board to the Niners at pick No. 49 in the second round.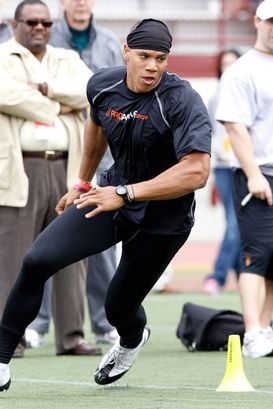 ICONFor all of Taylor Mays' size, speed and explosiveness, his ability to cover has been doubted.
Though Mays, in some ways, was the most physically gifted safety in his class, the message teams are sending was clear: they wanted safeties who can cover. And for all of Mays' size, speed and explosiveness, his ability to cover has been doubted.
Having one big, physical safety who doesn't cover well didn't used to be a big deal. But it is a big deal now because offensive coordinators have found ways to get matchups on those players and expose their deficiencies. The advent of the athletic tight end has helped lead to the demise of the strong safety who looks like an extra linebacker.
Having two safeties who can cover also gives a defensive coordinator the ability to match up with a nickel package without subbing personnel. So now most teams are desirous of two cover safeties, even if it means giving up a little in run defense.
"A lot of teams are willing to make that tradeoff, no question," said Cowboys secondary coach Dave Campo. "You can't do it with a safety who has trouble running and covering. It's all matchups in this league. Even the teams that use two running backs, a lot of them have a guy like Felix Jones, and if you have a safety who can't run you are in trouble."
In a little over one year, the Cowboys have shown the door to Roy Williams, Keith Davis and Ken Hamlin. What do the safeties have in common? Coverage is their weakness.
Last year they replaced Williams with Gerald Sensabaugh, a 210-pound hybrid free/strong safety. And this year, they are replacing Hamlin with Alan Ball, a converted cornerback. "Getting Sensabaugh last year was big," Campo said. "That allowed us to keep teams from getting mismatches because he can run with just about anybody. Alan Ball was kind of a tweener. He was our fourth corner. He's much faster than what we used to have. He's a ball hawk. He goes and gets it. He made great strides tackling, but he needs to continue to do that."
The Cowboys are more fortunate than most teams because they don't have to rely on their safeties for much help in the run game. They rarely move an eighth man into the box because their front seven is so effective against the run. So most of the time, Sensabaugh and Ball aren't taking on guards and fullbacks. Their tackling responsibilities are usually in the open field.
The Cowboys hardly are the only team heading in this direction.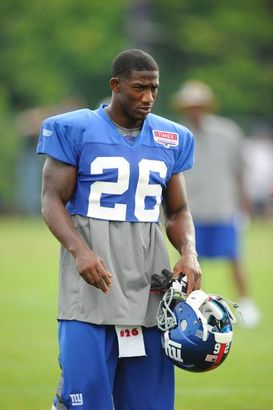 ICONNew Giant Antrel Rolle
The Giants signed two free agent free safeties in Antrel Rolle and Deon Grant, and they have a third in Kenny Phillips.
In the third round of the draft, the Packers ignored more pressing needs to take Morgan Burnett, a true free safety. They already had a true free safety in Pro Bowler Nick Collins.
The Saints converted Malcolm Jenkins, their 2008 first round pick, from cornerback to safety.
The Bears used their top draft pick to take free safety Major Wright, and then they traded for another player they are using at free safety in Chris Harris.
The Chiefs, Seahawks, Eagles and Browns invested high draft picks in true free safeties.
The Panthers promoted a 198-pound college free safety, Sherrod Martin, to be their starting strong safety.
If the trend continues, those 225-pound strong safeties will be going the way of the fullback. And the dodo bird.
Email Dan your questions at dan.pompei@nationalfootballpost.com
Click here to purchase the Total Access Pass/ Fantasy Draft Guide from the NFP and receive a free Deuce Brand watch while supplies last.