October 27, 2010 -
Dan Pompei
The pros and cons of in-season negotiations
When Tom Condon drove to Indianapolis to tell Colts president Bill Polian that Peyton Manning no longer wanted to negotiate until after the season, it constituted an interesting gamble on the part of Manning.
Why shut the door to a contract offer now? Manning isn't the first player to refuse to negotiate in season. It happens every year. And many other players with expiring contracts, meanwhile, are left wondering why their teams are not interested in doing deals in season.
Condon, one of the most respected agents in the business, had good reasons for doing what he did. He obviously thinks he can get more money, probably significantly more money, by waiting. This may be because the Colts' offer did not match Manning's expectations. Or it could be because Condon hopes franchise tags won't be a part of the new collective bargaining agreement. It could even be because Manning wants out of Indianapolis, though this is difficult to imagine.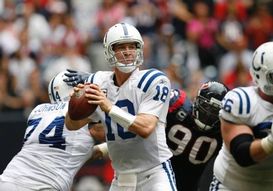 ICONManning might be better served to focus on football during the season and concern himself with his contract when the season is over.
There are pros and cons to any in-season negotiation. In fact, the Colts usually adhere to a policy against talking contract during the season. "We try not to negotiate during the season as a general rule," Polian told me. "There is a distraction factor that, no matter how hard you try, is difficult to ameliorate. If you have a choice, it's better not to do it."
Other teams, including the Steelers, also shy away from in-season deals for those reasons. In-season negotiations can play with players' minds.
Bruce Tollner, an agent for Rep1, has done in-season deals before. He said talking contract during a season usually doesn't upset a player, but it depends on how the team approaches it and the player's personality. "One of the things you don't want is the possibility of a deal dragging on through the season, because I think that weighs on the player's mind," Tollner said. "But if a team wants to present an offer and says this is what we are willing to do today, we obviously are willing to listen."
Polian said he has no problem with Manning not wanting to talk now. The Colts have signed many players with expiring contracts in the window between the end of the season and the beginning of free agency. "Historically, including with Peyton, we've done virtually every player we've had up either before the start of the season or at the end of the season," Polian said. "And the vast of the majority have been done after the season concludes."
I asked Polian if he would do whatever it took to make sure Manning remains a Colt. He said he "won't go that far." But he also said, "I do feel he will be here. We have signed him twice before." He is not the only one who feels strongly that Manning will remain in Indianapolis.
Another agent pointed out there has to be a motivator for the player to talk in season. That motivator usually is cash in hand. Often times, players need the money. Other times, they crave the security.
"The player has to choose," Tollner said. "I can have more money than I've ever had in my life today by saying yes. Or I can say no thank you and potentially get two times that number in a couple of months."
By waiting, Manning is foregoing the chance to fill his pockets now. But that probably means a lot less to him than it does to many players, given his earning history. If he stays healthy and everything goes his way, he'll probably make more after the season. The risk he takes by waiting is that he will avoid injury or a precipitous performance drop.
But other players have different priorities. "Sometimes guys want to get 100 percent, or more than 100 percent of what they think their fair market value is by waiting until free agency," Tollner said. "Sometimes guys are okay with getting 85, 90, 95 percent of what we think their fair market deal may be in order to get the money now and have security."
Players and agents usually understand that they'll get less for signing before a deal expires. The value of a player with an expiring contract generally rises as the season goes on, and both sides typically agree that the player will have to sign at a discount to get an early deal done because the team is assuming some of the injury risk.
Given Manning's status as quarterback kingpin of the NFL, he might not be interested in giving any discounts.
Dan Pompei covers pro football for the Chicago Tribune at chicagotribune.com.