September 12, 2013 -
Dan Pompei
The rise of the zebras
Chances are pretty good that Mike Pereira never set out to be a celebrity. To the contrary, in fact, Pereira's choice of avocations many years ago actually suggested a distinct preference for anonymity.
But now into his fourth season as the NFL rules analyst for Fox, following nine years as the league's vice president of officiating and two as a game official on the field, the ever-candid Pereira has become almost as recognizable as some of the talking heads that populate the network's play-by-play booths.
OK, so Pereira hasn't quite reached rock-star level yet. Unless you wear a striped shirt to work—and we're not referring here to employees of the Foot Locker franchises in just about every mall in the country—you were probably never aware of Pereira until he undertook the career transition from a guy who made the calls to one who explains and critiques them. But he clearly possesses a profile with the media-types who chronicle the games, and Pereira is becoming a more notable component of the coverage that people have come to expect when they cozy up in front of their big-screen televisions on Sunday afternoons.
Obviously, the fans have taken notice, and so, too, have the Fox competitors. Some rival networks – note the addition of three-time Super Bowl official Gerry Austin to ESPN's coverage of Monday Night Football – have brought aboard a rules analyst to parse the league's more byzantine guidelines. The ones that haven't are believed to be considering similar augmentations to coverage. Basically, Pereira, and Fox, has created an interesting cottage industry for retired zebras. He has taken the art of sorting out the rules from mostly esoteric to downright essential.
How vital has Pereira become? In 2012, Sports Illustrated termed Pereira "one of the NFL's most indispensible broadcasting talents."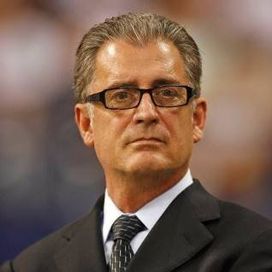 Pereira is in his fourth season as the rules analyst for Fox.
Every time there is a ruling or on-field dispute that demands explanation in a Fox-aired game– and sometimes even when matters aren't as obvious, as was the case last Sunday afternoon, when Pereira volunteered without prompting that there was a faulty interpretation in the San Francisco-Green Bay matchup – he seems to weigh in. It's become an expected element of NFL broadcasts anymore. Veteran referee Bill Leavy, according to reports, was "downgraded" after the botched call in the Packers-49ers game, which Pereira first pointed out.
While Pereira's presence hasn't been enough to give his former colleagues in black and white the heebie-jeebies, at least not publicly, the league's referees are acutely aware of him looking over their shoulders. Senior vice president Ray Anderson, vice president of officiating Dean Blandino and senior director of officiating Alberto Riveron aren't exactly cringing at the ramped up scrutiny. If anything, the folks who preside over officiating have suggested they welcome the enhanced transparency.
Since the rank-and-file game officials are precluded from speaking to the media, without the express consent of the NFL, the remarks from the zebras have principally been without attribution. But one current NFL umpire who has double-digit tenure suggested to NFP this week: "You know how players and coaches talk about 'the eye in the sky?' Well, (Pereira has) become that (for officials). We've always had our worked scrutinized every week by the league office. But Mike's stuff is more immediate. It has called a lot quicker attention to what we do."
Said a retired referee: "First, (instant) replay ramped up the accountability, now he's added another layer. All the (officials) are definitely more recognizable now."
In truth, even before Pereira or Austin or any of the other studio/booth arbiters, game officials had gained heightened profile in recent seasons. Unlike the faceless players who wear helmets, the referees are without masks, and in the last few years, fans have come to know quite well referees such as the big-gunned workout freak Ed Hochuli, Jeff Triplette, Walt Coleman and Gene Steratore. Time was when maybe only a referee such as the great Jim Tunney might merit a 'Hey, I know that guy' nod from a fan. Not, however, anymore.
First, the on-field microphones and announcements after each penalty lent the refs a name. Then came instant replay, with officials ducking under the hood to examine plays, and the television cameras following their every move. The latest step in the evolution of game officials from a nameless part of the game to a significant piece of the on-field furniture is the presence of Pereira and his ilk.
There has been loads of attention in the last few years to new wrinkles such as the "spread" offense, the read-option, and, as witnessed in Chip Kelly's debut with the Philadelphia Eagles on Monday night, breakneck, up-tempo offenses. Rarely, if ever, is the increased perusal of officials mentioned in the same breath as those advances, and it probably shouldn't be, but it's carved out a spot and made a difference.
Probably since the first time shoe met leather, fans have second-guessed officials. It's been part of the NFL tapestry for about as long as the game has been played. But now the first read on officials and their decisions is coming from people who were once a part of the zebra fraternity. Like all changes, it's already made the NFL a more interesting and provocative entity.
And it's apt to have made it better officiated – even though the first week of play, when it appeared that there were at least three notable mistakes, may not have indicated that -- as well.