September 28, 2010 -
Dan Pompei
The T.O. and Ocho Show
One of Terrell Owens' former coaches called Bengals coach Marvin Lewis to tell him, "We'll be saints in heaven together."
One of Lewis' players jokingly told him, "This is paid day care."
Certainly, Lewis has to keep checking to make sure there is nothing stinky in the Bengals locker room. But up to this point, there is no odor coming from the bombastic combination of T.O. and Chad Ochocinco.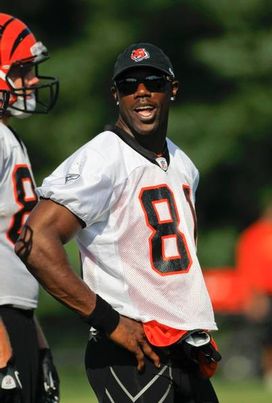 ICONThe Bengals' Terrell Owens.
The T.O. and Ocho Show has been more about the theatrics than the production, however. Through three games, Ochocinco, the Bengals' leading receiver, has 20 catches for 237 yards (which ranks 15th in the league). T.O has 14 receptions for 152 yards, which ranks 46th in the league. It's probably about what we should have expected from Ochocinco, who is 32, and T.O., who is 36 and couldn't find an interested team until the Bengals signed him during camp because Antonio Bryant was unhealthy.
So why are we paying so much attention to a couple of players who stand out more in the press conferences than on the field? Certainly, their mouths are a part of it. But so is the expectation that these two pieces of flint will create sparks.
While they have competed for the spotlight, they are not fighting for passes. Yet.
"Terrell talks about all the weapons we have," Lewis said. "I just say you need to get your launch codes right on your weapons so you catch some. But there haven't been problems. Chad and T.O. are like Mutt and Jeff. They are joined at the hip together. It's almost hilarious."
Instead of creating friction, Lewis said the two controversial receivers are bringing out the best in one another. "Terrell is good for Chad because he brings a degree of exactness to the game, more than Chad had ever gotten to," Lewis said. "And Chad brings a degree of energy and enthusiasm to Terrell that I don't think he's experienced in practice -- each and every day on the practice field. One guy knows if you're not exact, you're going to have a hard time getting the ball. The other guy brings the energy and the passion you have to practice with that sometimes gets you through the tough times. It's been good."
Lewis is already learning he can't treat the receivers the same though. Ochocinco never wants to miss a snap in practice, and argues when he's told to come out. T.O. is older and has more wear on him, including a bad toe. He can't be expected to keep pace with Ochocinco in practice.
"We just have to be careful because he is older and we don't want to wear him out," Lewis said. "I think he would prefer to get fewer reps early in the week when we are trying to install and Carson [Palmer] is trying to work on deep throws, things like that. We have to watch it, judge it, keep it in mind. By the time receivers go through their warm-ups, get their muscles going, then you start throwing routes, then quarterback-receiver routes, then routes with the offense and the group pass, then the pass skeletons, it's a lot of running."
Running their mouths is one thing. Running a lot in practice is another.
Email Dan Pompei your questions at dan.pompei@nationalfootballpost.com