September 19, 2013 -
Dan Pompei
The unsung heroes of the front office
<p> Their names generally appear well down the line on a team's list of personnel executives, or on the "front office" pull-down menu cited on the websites of virtually each of the 32 clubs in the league. But in a season in which injuries already have been one of the more alarming trends in the NFL only two weeks into the campaign, the men who work below the rank of general manager are likely to become critical.
Prominent? Maybe not, at least to the public. But essential? Yeah, you bet.
That isn't to suggest that pro personnel directors or pro scouts or directors of player personnel – or whatever title they hold with their particular team – will escape the anonymity in which they typically toil. But with injured reserve lists already swelled, threatening to potentially establish new records for the wounded and infirm, these guys certainly are earning their salaries.
"You always want to surround yourself with good (support) people, guys who know the league and can evaluate players, and who understand what you're looking for," acknowledged Atlanta general manager Thomas Dimitroff, whose club has been challenged already by injuries, and this week was forced to sign two linebackers from off the street and promote a fullback from its practice squad. "Those people don't always get the credit they deserve . . . but they're (invaluable)."
Especially, it seems, this season.
As of Wednesday afternoon, there already were 153 players, many of them starters, on season-ending injured reserve. That doesn't include the players on short-term I.R., who have been designated for possible return later in the year; players on the physically unable to perform list; or guys who have been suspended or reside on one of the NFL's several other reserve lists.
More than half the teams in the league, 18 to be exact, had five or more players on season-ending injured reserve. Five had seven or more I.R. players. There were even two franchises with nine players each on injured reserve. For whatever reason – and theories abound from all quarters about the bloated injured reserve rolls – the spate of injuries that began in training camp hasn't significantly diminished.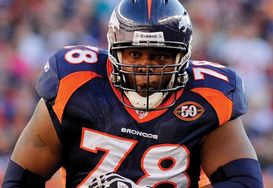 The injury to Pro Bowl left tackle Ryan Clady forced the Denver front office to make some quick adjustments.
The common thread among the uncommonly high number of franchises with so many players already shelved for the 2013 season: They all need replacements, and whether those ambulatory players come internally or from signing free agents, they have to be identified. And in some cases, like in Denver's addition on Wednesday of offensive tackle Winston Justice, they have to basically be unearthed.
A seven-year NFL veteran with 43 starts in Philadelphia (2006-2011) and in Indianapolis (2012), Justice, a onetime second-round draft pick whose league tenure has been relatively undistinguished, pretty much languished in free agency during the spring and summer. Despite starting a dozen games for the Colts in 2012, he was all but ignored in free agency. But when Pro Bowl left tackle Ryan Clady was forced onto injured reserve with a Lisfranc sprain that will require surgery, and Denver needed an experienced offensive tackle to bolster the depth chart behind untested replacement Chris Clark, pro personnel director Tom Heckert had to know where to find one.
Granted, the often disappointing Justice probably won't replace three-time Pro Bowl blocker Clady at any point this season. Heck, even though he's started seven times as many games as Clark, he might never beat him out for the No. 1 spot on the left side. But it was critical to the Broncos that they locate a tackle, and Heckert was savvy enough to have Justice, no matter his shortcomings, on his "emergency" list. That's not to single out Heckert, a onetime general manager in Cleveland, because there have been plenty of cases of such diligence at this early juncture of the season. But his familiarity with the league and its players, his knowledge of guys even out of the NFL, represent the latest example of timely preparation.
Said one AFC general manager who's already been forced to lean heavily on his pro personnel director in 2013: "When (players) go down, the pro (personnel) guy has to be able to step up. And a lot of them are doing it this year."
Way back in early December 2012, NFP founder and columnist Jack Bechta wrote this in referring to pro personnel men: "The pro director doesn't get to make a whole lot of moves. The ones that he does make can be the difference of a team making the playoffs, having solid back-ups, and making sure that the bottom half of the roster is competitive and can fill in when a star player is hurt."
Twenty-one months later, those words ring truer even than they did when Bechta typed them.
By and large, pro personnel directors spend most of their days in dark rooms, poring over videotape, checking in with agents, updating contact numbers, monitoring moves around the NFL, scrutinizing film from other games, attempting to identify talent. And they are inveterate list-makers, creating and maintaining rolls of guys they might someday need, and who are only a phone call away. For the most part, it's a fairly thankless lot, at least in terms of profile.
But when the injured reserve lists grow to M*A*S*H unit proportions, the pro personnel guys are the ones called in to staunch the bleeding. And two weeks into the 2013 season, they've done a lot of admirable stitch-work already.