October 29, 2013 -
Dan Pompei
The wrecking ball
Even though the season hasn't officially reached the midway point, there is mounting sentiment that the NFC's representative in Super Bowl XLVIII will be either New Orleans or one of two teams from the NFC West. But the Green Bay Packers, at 5-2 and atop the NFC North after Sunday night's dominating victory at Minnesota, might actually be countering such conventional wisdom in what for them is a relatively unconventional way.
With a running game.
Yeah, we know. The mere concept of being able to effectively run the ball is about as anathema to the folks in Frozen Tundraland as is a December morning that doesn't begin with shoveling out the driveway before heading to work. But the Packers, who haven't featured a 1,000-yard rusher since Ryan Grant in 2009, demonstrated again in the 44-31 victory over the Vikings that an infusion of new blood has provided the long dormant running attack a pulse.
Rookie Eddie Lacy, a second-rounder beginning to look more like a Brink's heist than just your typical draft steal, lugged the football 29 times. It was a ponderous workload, the former Alabama standout suggested, that was unprecedented in his football career, even including high school and pee-wee ball. Lacy netted 94 yards for the evening, averaging only a pedestrian 3.2-yards per attempt, and his long run was for 17 yards. In fact, nearly half of Lacy's 29 rushes (26) were good for one yard or less and five of them were negative-yardage runs.
There is little doubt, though, that Lacy leaned on the Vikings and helped to erode the will and gumption of the Minnesota defense.
"When you pound that big body in there that many times," said Green Bay right tackle Don Barclay, "it's going to make a difference; it has a (cumulative) effect."
Indeed, Lacy, who is listed at 230 pounds but is probably something north of that (he certainly runs even harder that his ascribed weight), produced just 31 yards on 13 first-half carries. On the Packers' first series, just one of his six rushes netted more than two yards. But as the night wore on, he wore out a Vikings' defense that was geared more toward stopping quarterback Aaron Rodgers.
Lacy amassed 63 yards on 16 second-half rushes. That's again below, but just slightly, the usual NFL standard of at least 4.0 yards per carry. But his importance to the Green Bay offense can't be measured only in statistics, players from both the teams acknowledged after the game. And Lacy, who has now carried 97 times in the past four outings, and no fewer than 22 times in that stretch, suggested he relishes the healthy workload. Prior to the Monday night St. Louis-Seattle matchup, the NFL had produced just 33 games with a back getting 22 or more carries, and Lacy had four of them.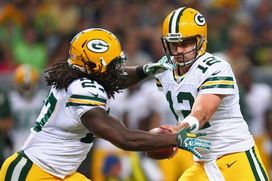 Despite appearing in only six games so far this season, Lacy currently ranks 13th in the NFL with 112 rushing attempts.
Said Lacy, only the fourth running back chosen in the draft: "(Twenty-nine) is a lot of carries, but I like having the ball in my hands. I tend to get stronger."
Make no mistake, the Packers are still principally about Rodgers, and his ability to throw the ball almost unerringly despite a wide receiver corps that would make a M*A*S*H unit appear robust by comparison. Rodgers was surgically precise again on Sunday night, even though even the most ardent fantasy football players might not have recognized any of his receivers outside of Jordy Nelson. Rodgers' accuracy, and his remarkable ability on third down in particular, was the story of the game. But Lacy provided an important chapter, too, and is increasingly doing so.
While Rodgers' stiletto strikes are still the Green Bay calling card, coach Mike McCarthy frequently is dialing up Lacy's number these days. And while we've long contended that you don't necessarily have to run the ball to win in the league anymore, the second half of the premise is that, if you can run, it allows you to do almost anything you want.
Facing Rodgers and the Green Bay offense, that has to be a scary thought.
Not since 2004, when Ahman Green was still in his heyday, has Green Bay finished a season ranked among the top 10 in rushing offense. Under McCarthy's stewardship, which commenced in '06, the Packers have never statistically been above No. 14 and just twice rated in the top 20. After finishing 17th and then 14th in rushing in Rodgers' first two seasons as the starter, the club has been 20th or worse the past three years. Little wonder that Rodgers – the only quarterback in league history to twice pass for 4,000 yards in seasons in which he was sacked 50 or more times – has championed the club's upgraded running attack.
Once a last resort, the Green Bay ground game has become no day at the beach for opposition defenses. Lacy is the kind of wrecking ball that Miley Cyrus wouldn't sing about, but that doesn't mean people aren't singing his praises. None of the three backs chosen ahead of him in April – Giovanni Bernard (Cincinnati), Le'Veon Bell (Pittsburgh) or Montee Ball (Denver) – has had as big an impact.
"They're probably more balanced than they've been," Minnesota defensive end Jared Allen said of the Packers. "The big guy (Lacy) gives them another dimension."
Green Bay has now accumulated 100 or more rushing yards in six straight games. In three of those contests, the Packers ran for 180 yards or more. With 446 yards, Lacy is close, in less than half a season, to the team-leading 464 yards that Alex Green (no longer with Green Bay) posted in 2012. Lacy has only one attempt for more than 20 yards, but his value isn't necessarily in the big play. Instead, he gives Green Bay a chance to methodically bludgeon opponents with a blunt instrument, something that has been lacking with the Packers for several years now.