February 02, 2011 -
Dan Pompei
There is a lot more to Polamalu than hair
Besides the hair, there is something very different about Troy Polamalu.
There is not another safety like him in the NFL. There isn't anyone close. And there really never has been anyone like him. "Unique" is a word that often is used incorrectly. But it applies to the Steelers safety.
Polamalu has been a subject for discussion here in Dallas this week after he won the Associated Press defensive player of the year award on Monday. As one of the 50 voters for the award, I had no quarrel with Polamalu winning even though I voted for Clay Matthews. The reason I didn't vote for Polamalu is he played in only 14 games. But if you judged his 14 games against any 14 games Matthews played, you would probably have said Polamalu was the defensive player of the year.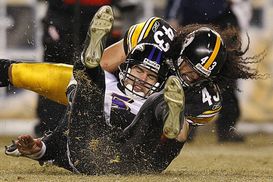 Polamalu can do it all -- from covering to blitzing.
Steelers director of football operations Kevin Colbert, who drafted Polamalu out of Southern Cal in 2003, says he never has seen a safety like him—both because of Polamalu's abilities and his intangibles. "He has unusual physical skills to go along with unnatural instincts," Colbert told me. "It's not normal the things he sees and diagnoses… He has corner skill, a safety's body and a linebacker's mentality. Put all that together, and you have a special guy."
At 5-10, 207 pounds, Polamalu mixes it up in the box like a much larger man. He's an excellent run defender who hits hard and gets his man on the ground. He is one of the best blitzing safeties in the league.
And he's adept on the back end too. He can play centerfield and jump routes all day. He can cover a tight end or back. Zone drops are a piece of cake for him. His ball skills are outstanding.
"The total package he has, there is nobody like him," Packers director of pro scouting Reggie McKenzie said. "From the run game, to the blitz game, to tackling, he brings dimensions nobody else does. Troy has all the skills --explosiveness, speed, physical strength. Not too many people are made up like him. A lot of people have the height, weight speed, but from the neck up, and with the heart, the level he has is rare. It's hard to find a guy like that. There are only a few of them that play with that mentality."
What separates Polamlu is that mentality. He prepares himself for every challenge as thoroughly as possible. And then he lets his instinct take over. Steelers defensive coordinator Dick LeBeau, a veteran of 37 coaching seasons, says Polamalu is the most instinctive player he ever has had.
Asked how much of his success is due to preparation as opposed to instinct, Polamalu said, "I think it's important for any football player to first get a really good feel for the defense and to understand what the game plan is, or just schematically what the coach may be thinking when he makes the call. After that, I think it's also really important to get a flow of what the offense is doing. When you compile all these different things, you can just go out and not really think, but make everything natural and instinctive to yourself."
LeBeau sums up Polamalu this way: "I think I would describe him as the epitome of a competitor. He prepares mentally and physically and has the demeanor of a warrior. All the things they write the books about, they are embodied in Troy. He was born to play professional football and he is one of the best I've ever seen."
It will be exciting to see this great player on the ultimate stage on Sunday.
Dan Pompei covers pro football for the Chicago Tribune at chicagotribune.com.