November 24, 2010 -
Dan Pompei
Three-man fronts have sacks appeal
What does this tell you? Only 41 percent of the NFL's teams play a three-man front as their base defense, but the five players with the most sacks in the NFL play outside linebacker in 3-4s.
Clay Matthews, Cameron Wake, James Harrison, Shaun Phillips and DeMarcus Ware have been the most successful pass rushers this season. Meanwhile, some big name 4-3 ends like Jared Allen, Julius Peppers, Kyle Vanden Bosch and Will Smith have been frustrated in their quest for big sack numbers.
What it tells me is a three-man front is increasingly becoming the best way to generate pressure. And it always has been the best way to slow down the run.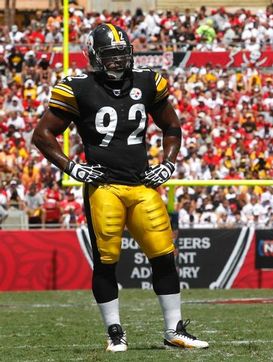 ICONOutside linebackers like James Harrison have the advantage of rushing the passer from different angles.
As protection schemes have become more and more sophisticated, offensive coaches have figured out they can usually take one dominant pass rusher out of a game if they know where he is going to be coming from. Offenses almost always know where Allen is coming from. They can't be as sure where Matthews is coming from, or if he's coming at all.
"People have gotten so good from the standpoint of offensive line and scheme," Chargers coach Norv Turner said. "They get their best blockers on your best rushers, or double them. People do a great job of helping. They've also all gotten better at getting the ball out quickly.
"As a defensive coordinator, you have to try to create some kind of matchup to get a one-on-one. The best way obviously is to do it with an outside linebacker in a 3-4. In that defense, you can create some one-on-ones that you are not going to create out of a four-down line. If you can create a little hesitation, you have a better chance of getting an edge."
Matthews is the perfect example for the 3-4 argument. He is the only pass rusher that Packers' opponents have to really concern themselves with. And yet he still has gotten to the quarterback in seven of Green Bay's nine games, and he leads the league with 11.5 sacks. His production certainly is a reflection of his ability and his tenacity, but it's also a reflection of how he's being used by Green Bay defensive coordinator Dom Capers.
At 6-3, 255 pounds, Matthews also is a matchup problem for most blockers. His speed is going to cause problems for almost every offensive lineman in the league. He's too big for a back to handle. And most tight ends aren't fundamentally sound enough as pass protectors to hold him off for long.
"The size of those guys is what creates problems," Vikings offensive coordinator Darrell Bevell said. "You have to decide how you are going to handle them. Do you put linemen on them? Backs? Given the size of the player, the route, the drop and the type of pass it is, you have to decide what is best for you."
The other pass rush advantage with a 3-4 is the players can be aligned in better places from which to pass rush. "Outside linebackers in a three-man front are in more advantageous positions for blitzes," said one NFC general manager.
You can only do so much with a 4-3 defensive end — he can line up as a five-technique (inside shoulder of the tight end), a six-technique (head up on the tight end), a seven-technique (outside shoulder of the tight end), or eight-technique (in space where there is no tight end).
With an outside linebacker in a 3-4, there are many more places to line up from — and more sack opportunities.
Dan Pompei covers pro football for the Chicago Tribune at chicagotribune.com