August 27, 2010 -
Dan Pompei
Two greats get their due
Many football fans might not know much about Chris Hanburger and Les Richter. Frankly, neither of them were very high on the radar of the Pro Football Hall of Fame before this year.
But this week, the Hall's Seniors Committee, of which I am a member, convened in Canton and voted to make the linebackers finalists for the 2011 Hall of Fame class. We had help in reaching our decision from two current Hall of Famers — Jack Ham from the Steelers and Charlie Sanders from the Lions. Both of these greats were extremely helpful to the Seniors Committee in providing insight that helped identify the most deserving players.
And I should say there were many more Hall-worthy players than we could recommend. You walk away from a vote like this feeling good about the players who have a chance to be inducted, but feeling bad about those who are deserving but didn't get the chance. All we could recommend were two players from 16 finalists.
The other finalists included some more familiar names, and some who have been debated by the 44 board of selectors in the past. We'll hear about some of them in the future, I believe. The by-laws of the Hall prohibit me from sharing the names of those men.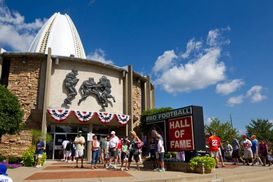 iconThe Pro Football Hall of Fame
So I'd like to tell you why we are so excited about Hanburger and Richter as potential Hall of Famers. First of all, a number of defensive greats like Hanburger and Richter have found it more difficult to be inducted than offensive greats. Consequently, there is an imbalance of offensive and defensive players in the Hall — 113 modern era offensive players to 68 modern era defensive players. It's time the board of selectors looked closely at players like these two.
Hanburger was voted to nine Pro Bowls for the Redskins — nine — before retiring in 1978. How he got this far without ever being a serious Hall of Fame consideration is a mystery. Some think his surly disposition might not have done him any favors in the process. His nickname used to be "Grumpy."
The fact that he was only 6-2, 218-pounds made opponents take him less seriously — right up until the point when he started making plays all over the field. His lack of size resulted in him dropping to the 18th round of the 1964 draft.
But a lot of people have said a lot of good things about Hanburger. Ham, who was a first ballot inductee himself, talked about how he used to study tape of Hanburger because he was such an outstanding technician. Former Cowboys running back Calvin Hill told me about how Hanburger had a knack for keeping blockers off him and getting to the ball carrier. Former Redskins executive Charley Casserly talked about how Hanburger was the man who made George Allen's complex defensive scheme possible, because he made sure everyone was lined up and doing what they were supposed to be doing.
As for Richter, he only played in eight Pro Bowls. That's eight Pro Bowls in a nine-year career. Because Richter's last season was 1962, he's been out of sight and out of mind. There aren't a lot of his contemporaries around to share their thoughts on him. And unfortunately, Richter passed away earlier this year at the age of 79.
Richter was valued so much that before he ever played a down the Rams traded 11 players to Dallas for him — veterans Dick Hoerner, Tom Keane, Gabby Sims, Vic Vasicek, Joe Reid and Jack Halliday, as well as draft choices David Anderson, Aubrey Phillips, Billy Baggett, Dick McKissick and Dick Wilkins. It was the Herschel Walker deal if its day.
Richter also played center one year, and he was his team's kicker. In those days, they didn't keep statistics the way they do today, so there aren't many tangible measures of Richter's impact on the Rams defense. He was known as a "dirty" player, which back then was almost a euphemism for being aggressive. He also was a colorful player who didn't mind talking about himself.
Now a lot of others should be talking about him.
Email Dan Pompei your questions at dan.pompei@nationalfootballpost.com