August 04, 2010 -
Dan Pompei
Vick is more than a safety net for Eagles
Finding out that Michael Vick should be available for all of the 2010 season was no small victory for the Philadelphia Eagles.
When the Eagles decided to essentially replace Donovan McNabb with Kevin Kolb in the offseason, they made what could be remembered as the biggest gamble of the year. And they didn't make that leap without a net. That net's name is Michael Vick.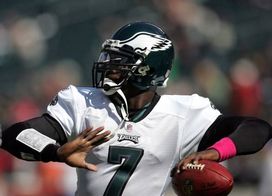 ICONHead coach Andy Reid is a big fan of Michael Vick's game.
Of course, Vick will be an option if Kolb falters. But he also provides value to the Eagles on two other fronts. They likely will expand the Wildcat-style package they used with him last year. And they probably will use him to spell Kolb when Kolb needs time to absorb what's happening.
The Eagles clearly are planning for Vick to take on a larger role this year — their coaches are acknowledging as much — in part because Vick is ready to take on a larger role. It took him about a half a season to get in playing shape a year ago, and he's in better football shape now than he was at any point last season, his first back from the big house.
Eagles head coach Andy Reid told me in the offseason that Vick was moving around better and throwing better than he did last season. "I just think he's back," Reid said. "He'll probably get a few more snaps."
Vick helped his cause by showing up consistently for the offseason program for the first time in his career. And despite his off the field problems, he has endeared himself to his coach. "I really enjoyed having him here," Reid said. "He has a pleasant personality and he's sharp. His desire to get back is phenomenal. I love this kid."
Eagles offensive coordinator Marty Mornhinweg described Vick as "hungry to learn and be the best he can be." This is a departure from the Vick who was content to rely on his athleticism earlier in his career.
Vick can have a significant impact on the Eagles' season regardless of how Kolb performs. But the Eagles need for Kolb to be the man. Team brass is confident Kolb will do that. What is the source of their confidence?
Well, like Aaron Rodgers, Philip Rivers, Tony Romo and others, Kolb was allowed to sit and learn in a system before being asked to perform. Many quarterbacks don't have that luxury, and some wash out because of it.
Kolb has been developed slowly and methodically — bottle-fed, you might say. In his first two years in the league, he led all quarterbacks in preseason attempts. His two starts last year inspired confidence — he became the first player in history to pass for 300-plus yards in each of his first two starts, and he also was named NFC offensive player of the week for his performance against the Chiefs.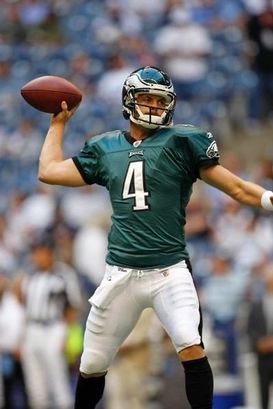 ICONWith the trade of Donovan McNabb, Kevin Kolb is now the man in Philly.
The fear with Kolb is he's going to be too loose with the football. He has thrown seven interceptions in his 130 pro attempts, but only three in his last 96. "He has made some bad decisions in games, and it's quite clear he's learned from them," Mornhinweg said. "We expect him to go up and down a little bit."
Kolb is a different-style quarterback from McNabb, and that will be reflected in the Eagles' play calls and game plans.
Kolb is a more accurate passer than McNabb, and he might have a quicker delivery. His arm isn't as strong. His movement skills aren't as dynamic. And he isn't as mature a decision maker. With Kolb under center, the Eagles may call for shorter, quicker developing routes and more timing passes.
With the combination of Kolb and Vick, the Eagles should have the capability to attack defenses in more ways this year.
Email your questions to dan.pompei@nationalfootballpost.com