September 10, 2013 -
Dan Pompei
Where's the killer instinct?
When an offense is coming off a season in which it statistically ranked No. 8 in the league, scored the seventh-most points and the fifth-most touchdowns, was second in the NFL in third-down conversion rate, and came within a play of moving on to the Super Bow—and featured a Pro Bowl quarterback, a tandem of 1,000-yard wide receivers, and a tight end destined for the Hall of Fame—it's usually pretty difficult to find fault with such an assemblage.
But if you're into the exercise of picking nits, or like obsessing over a bothersome shortcoming that once again could keep that offense out of a Super Bowl, well, we offer up the Atlanta Falcons as "Exhibit A."
In its opening game defeat at New Orleans on Sunday afternoon, the Falcons' offense went three-and-out on its first possession, then scored, almost effortlessly, it seemed, on its next two drives. It tallied a touchdown and a field goal on marches in which the Matt Ryan-led unit rang up seven first downs and 122 yards, and, for a short time, rendered the typically raucous Superdome crowd nearly mute.
And then, having jumped to an early 10-zip lead against its archest of rivals, the offense, almost predictably, went into hibernation.
On its subsequent eight possessions, the Atlanta offense scored but one touchdown. On all but two of those possessions, the Falcons managed two first downs or fewer. The offense registered more than 40 yards just twice. On its last-gasp possession, trailing the Saints 23-17, the offense reached the New Orleans three-yard line but failed to score, with Ryan's hurried fourth-down pass for tripled-covered tight end Tony Gonzalez deflected and intercepted in the end zone.
Does much of this sound eerily familiar? Yeah, it should.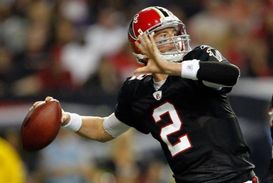 Matt Ryan and the Falcons managed just seven points over the final 30 minutes on Sunday.
For all its high-octane, marquee firepower, the perception at times that it cannot be stopped, and that it ought to hang 40 points or more on an opponent every time it steps on the field, the Atlanta offense has a way of going comatose for long stretches of contests. And the loss to the Saints was only the latest example of a mystifying habit that has become maddening even to some of its most notable practitioners.
"I'm saying, 'That's terrible,' you know," noted characteristically outspoken wide receiver Roddy White, who didn't even bother to take to his favored platform, Twitter, to voice his displeasure after the Superdome loss. "With all the guys that we have, we should be able to score a lot more points than that."
Of course, White was speaking only of Sunday's opening game loss. But he could have been addressing a (fatal?) flaw that's been almost as much a component of the Atlanta offense in recent seasons as has been the ability of general manager Thomas Dimitroff and coach Mike Smith to collect impressive individual talent. Over the last few years, whether the coordinator was Mike Mularkey (often derided for his staid play-calling, even in his own locker room) or current incumbent Dirk Koetter, the sum of the Atlanta offense has yet to approximate its estimable individual parts.
The Falcons seem to frequently start fast and then succumb to a sort of complacency. The nettlesome offensive malaise has become a trend that, late Sunday evening, after the team had returned to Atlanta, one player termed "maddening" and then "frustrating." Said the player: "It's almost as if stuff comes too easily to us early on. Then we sort of flip the switch to 'off' for a while. (Sunday) was just the latest time."
Indeed, the Falcons fell short of Super Bowl XLVII last season, not so much because Ryan could not connect with White on a fourth-down pass from the San Francisco 10-yard line in the closing minutes, but more notably because Atlanta was shut out completely in the second half. In that NFC championship game, the Falcons led 17-0 just minutes into the second quarter and 24-14 at the half. They scored on each of their first three series and four of the first five, outdistanced the 49ers in first downs and total yards, but got zilch on five second-half possessions.
The previous week, despite topping Seattle in a division-round game, Atlanta blew leads of 20-0 at halftime and 27-7 late in the third quarter. After scoring on five of its first six possessions, bolting to a huge advantage and moving the ball facilely, Atlanta needed a late Matt Bryant 49-yard field goal after falling behind 28-27 in the final minute of play. And those aren't the only examples of the Falcons' offense nodding off for long periods, just the most conspicuous ones.
On paper, the deficiency might not be as obvious. Atlanta scored more first half points than points in the second half in 2012, but not by much (222-197). And the Falcons' second-best quarter during the season was actually the fourth (129 points). Those numbers aside, the Falcons' offense has demonstrated a marked inability to keep its foot on the throttle. The unit allows sometimes overmatched opponents to stay in games because it too often hits the "pause" button when it really needs to keep the pedal to the metal. When the Falcons have a defense on the ropes, it seems to jab, rather than deliver the knockout punch. A "killer instinct" clearly is not a strong suit for the offense.
"We've definitely got to be more consistent as a unit," acknowledged veteran left guard Derrick Blalock in a gross understatement.
On Sunday afternoon, the nasty habit of coasting caught up to the Falcons again, much as it did in the NFC championship game loss to the 49ers. Sure, it's easy to point to problems with a revamped offensive line (new starters at three of five positions), a unit that could not keep the Saints' new 3-4 defense off Ryan, as a principal reason for the loss. But an offense that features Ryan, wide receivers White and Julio Jones, tight end Tony Gonzalez, and newly acquired tailback Steven Jackson, who is more of an explosive threat than was the departed and used-up Michael Turner, ought to be able to score more than 17 points in its sleep, right?
Ironically, though, it's that somnambulant bent, when the Atlanta offense just seems to sleep-walk through long stretches, that could again threaten the Falcons' dream of a Super Bowl berth.