April 06, 2011 -
Dan Pompei
Why draft boards still are not set
The last real game was played about three months ago.
The all star games are history. Combine is done. Pro days in the books.
So the draft boards should be set, right?
Well, almost. The combine medical recheck will impact some players. Da'Quan Bowers' knee will have him moving on boards, for instance. Private workouts and visits could have a slight effect on where some prospects rank. If a coach can't feel comfortable in a meeting room with Cam Newton, that could be a deal breaker.
But the most confident teams have about 95 percent of their boards set with the draft three weeks away. The more reactive teams still are moving players around based on what they hear and fear.
One NFC general manager told me his team's board was close to 80 percent complete at the start of the combine. So most of the board was based on game tape. The other 20 percent is determined by workouts, medical, interviews and intelligence testing.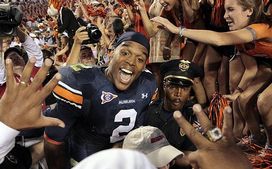 ICONPlayers like Cam Newton still can help themselves in the draft process.
"There are guys who through the combine and pro days who tend to separate themselves a little because of the numbers," the G.M. said. "That gives you a little better indication of what's in that player's body. Then you try to go back to look to see if those numbers, whether they are positive or negative, are more identifiable in the film. A lot of times, it goes back to what you originally thought. But sometimes as you look at more film, you can see some of those numbers in a positive light or a negative light. You end up learning more than you did the first time through."
Many teams focused on their early round players before the combine, and are cleaning up the fifth through seventh rounders in meetings over the next few weeks. Others hit the late rounders first.
The temptation for front office men in the coming weeks is to be influenced by the media, or even by friends in the business. Opinions of others can plant seeds of doubt, or lead to re-evaluations—especially if a team is in the minority in how it ranks a player or if a team's evaluators are divided on a prospect.
"If you know somebody that you think is a good evaluator and has a good opinion about someone, I would think you are influenced by that slightly," Browns president Mike Holmgren told me. "But what we have to do is be our own people and have good reasons for drafting anyone we draft. There is a danger of thinking too much about what other people say and think. You have to fight that urge because it's all over the league. You have to evaluate and do your own thing."
So much information, and misinformation, is flowing from so many sources that outside noise is best handled with earplugs.
"It doesn't do me any good to think about what other people think about Anthony Castonzo or Nate Solder or anybody else," the general manager said. "It's not going to impact my decision…. You listen to a little bit where guys might go, but we don't set our board based on where they are going to go."
There still are some good reasons to move players up and down or draft boards at this late date. But outside noise is not one of them.
Dan Pompei covers pro football for the Chicago Tribune at chicagotribune.com.