March 18, 2012 -
Dan Pompei
Will Freeney stick with the Colts?
Click here to read the entire NFP Sunday Blitz.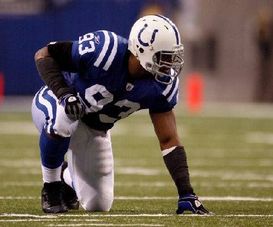 The Colts' Dwight Freeney.
Dwight Freeney is not necessarily out in Indianapolis, even though many of his contemporaries are. There remains a chance the Colts will deal him if the right offer comes along.
But the 32 year old has not hit the wall, and the Colts would not mind keeping him. Freeney had only 8.5 sacks last year, but that could be attributed mostly to the fact that he didn't have as many pass rush opportunities because the Colts were often trailing their opponent.
Freeney's current contract calls for him to count $19 million against the cap. The Colts would like to restructure, but if Freeney refuses, the team can handle the hit.
Dan Pompei covers pro football for the Chicago Tribune.
Follow Pompei on Twitter: @danpompei