December 29, 2010 -
Dan Pompei
You can't overlook this guy
How do you leave Aaron Rodgers off the Pro Bowl roster?
Nothing against Michael Vick, Matt Ryan or Drew Brees, but Rodgers' performance in 2010 compares well with any quarterback in the NFC. Rodgers' passer rating of 101.9 is second in the conference only to Vick's 103.6. His average per attempt of 8.3 is second only to Vick's 8.4. He has thrown more passes of 25 yards or more — 37 — than anyone.
And Rodgers has played an elite level after losing both his starting running back, Ryan Grant, and the player who was expected to become his primary offensive weapon, tight end Jermichael Finley.
Packers coach Mike McCarthy told me he believes Rodgers is "definitely one of the better players in the league in my opinion." I would say so. His career passer rating of 97.6 is second best in history, and his interception percentage of 2.0 is best in NFL history.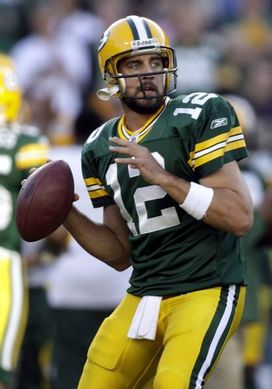 ICONAt the age of 27, Aaron Rodgers keeps getting better.
In the Packers' convincing victory over the Giants Sunday, Rodgers threw for 404 yards and had a passer rating of 139.9. It could be evidence that Rodgers is continuing to improve at the age of 27. "I thought Sunday was one of his best games," McCarthy said. "He was really sharp, [had] command of huddle, all the little things. He was seeing it really clean. He's playing smart, in rhythm with his feet. When he plays like that, he's going to put up huge numbers."
Rodgers was coming off a one-week rest because of a concussion, and could be primed for a strong postseason run if the Packers can beat the Bears Sunday. "In a sense he almost had a bye week to rest his body," McCarthy said. "He was rejuvenated. He had a ton of energy in practice. He always has a lot, but he was overboard going into the game. So it was good for him to take a step back."
One NFC personnel man I spoke with said he thought Rodgers' play has covered up for the Packers' absence of a dynamic run game. "They overcome that because their quarterback is so good," he said. "A lot of their passes basically are runs."
The personnel man also pointed out Rodgers has improved from last season when he took an NFL-high 50 sacks. This season, he has taken 21 fewer with one game to play. "He is getting rid of the ball better," he said. "He has improved his internal clock — he's feeling the rush and scrambling more."
McCarthy and his offense have brought out the best in Rodgers. Being in one system for six years has been a tremendous benefit. And not having to play for three full seasons didn't hurt him either. "It goes back to how you build your offensive system," McCarthy said. "This system is about making the quarterback better. That's the way I learned it. Those are the fundamentals of the West Coast offense. The best way to make them successful is through the run game, the protections and then on to the passing game."
Between Rodgers' ability, his intangibles, his hard work and the coaching he has received, it should add up to a Pro Bowl invitation. Shouldn't it?
Dan Pompei covers pro football for the Chicago Tribune at chicagotribune.com