September 17, 2013 -
Dan Pompei
Youth is served
In the St. Louis Rams' 31-24 loss at the Georgia Dome on Sunday afternoon, the team's leading passer was quarterback Sam Bradford, only a fourth-year veteran. Tailback Daryl Richardson, the top rusher, had just one previous season of NFL seniority on his resume. The leading receivers in terms of catches and yards, Austin Pettis and Chris Givens, respectively, have combined for 21 starts. Rookie first-round wide receiver Tavon Austin, added a pair of touchdown catches.
On the defensive side, the two leading tacklers were rookie strongside linebacker Alec Ogletree and second-year free safety Rodney McLeod. One of the franchise's two first-round selections five months ago, Ogletree had the most passes defensed. The Rams' two sacks of Atlanta quarterback Matt Ryan came from third- (Robert Quinn) and fourth-year (Eugene Sims) veterans. Kicker Greg Zuerlein and punter Johnny Hekker each are in their second seasons.
The 22 position players who started for the Rams averaged only 3.45 seasons of previous experience in the NFL and 20 of those years belonged to center Scott Wells and weakside linebacker Will Witherspoon. A dozen of the starters had logged three seasons of experience or less, not counting the two games in 2013.
If, by now, you sense a trend here, well, you probably don't yet qualify for Mensa membership. But you've certainly mastered the art of identifying the obvious.
Yeah, the Rams are young, the NFL's youngest team, in fact, in terms of chronological age (24.98 years) and previous league experience (2.3 seasons), according to the league. In terms of a postseason berth, that probably doesn't augur well in 2013 for a franchise that hasn't been to the playoffs since 2004, has not posted a winning campaign since that year, averaged an anemic 4.5 wins since its last postseason appearance, and finished in last place in the NFC West in half of those past eight seasons. On the other hand, that bright light emanating from the dark end of the tunnel isn't necessarily an oncoming locomotive anymore.
"I think we're on the right track," said left defensive end Chris Long, the sixth-year veteran who is St. Louis' longest-tenured player in terms of continuous service to the club, following a defeat in which the Rams turned a 24-3 blowout into a game that was close at the end. "There's a lot of enthusiasm from the younger players, (most of whom) weren't around for all the losing, and it gets contagious."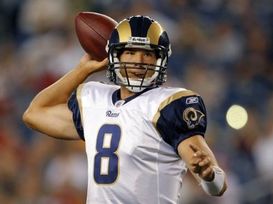 ICONWith four seasons under his belt, quarterback Sam Bradford is one of the more seasoned players on the St. Louis roster.
Added Witherspoon, who is now in his second tour of duty with the team and has experienced both sides, as part of its last non-losing campaign (2006), but also a three-season stretch (2007-2009) in which St. Louis totaled six wins: "Because we're so young, we're going to make some mistakes, and that's not an excuse. But we're going to keep getting better, too."
Indeed, the ambitious roster makeover orchestrated by general manager Les Snead and coach Jeff Fisher in their two years with the club provides the Rams – who not all that long ago were regarded as "The Greatest Show on Turf," but have recently become accustomed to having their noses rubbed in the dirt – with that most nebulous of commodities: Legitimate hope that things are on the upswing. That St. Louis rallied to defeat a pedestrian Arizona team in the season opener was seen as a nice, but not particularly impressive, victory. But in the loss to the Falcons, a game in which the Rams could have folded early against an Atlanta assemblage regarded as a legitimate Super Bowl contender, there was indisputable progress.
"I've been around long enough to know there are no moral victories," said Bradford, who threw for 352 yards and three touchdowns, and who is only 25 despite being in his fourth season. "But the fact we came back to make a game of it . . . is probably another step forward for us."
OK, a baby-step, to be sure. But then again, the Rams are still relative toddlers in an NFL where you've got to learn to walk pretty quickly, and then advance to running even faster. Seattle and San Francisco haven't quite lapped the field in the division, but they have a healthy lead over the Cardinals and the Rams. But the greening of the St. Louis roster over the last couple years, under Snead's stewardship and the tutelage of Fisher and his staff, may be narrowing the gap a bit. The football tandem didn't consciously plot to get so much younger so quickly, Snead acknowledged on Sunday evening, but that's the natural course of things in reconfiguring a losing team, the typical byproduct of necessary change.
"When we came in," Snead said, while exchanging greetings with friends from his five seasons as the Atlanta personnel director, "we didn't say, like, 'OK, we're going to be the youngest team (in the league).' But we knew we had to bring in more talent, and the best and fastest way to do that is the draft. But even in free agency, and in other ways of (acquiring) players, we did consciously look for younger guys who could grow with us. We'd like to continue adding, but also keep a lot of this group together for a while."
The Rams made a crafty move in 2012, essentially dealing the rights to quarterback Robert Griffin III to Washington for a passel of draft choices. In general, though, Snead has simply drafted adroitly. Of the 17 prospects he selected, all but two are still with the club. All seven of this year's choices made the roster. There have been, as Snead noted, some veteran acquisitions as well, but the Rams aren't generally inclined to bring in guys in their football dotage, just to add stability. Nope, when the ship finally gets steadied, and St. Louis embarks on a playoff run, it's apt to be the current young players at the helm.
"There's good young talent and leadership here," Long said, noting that three members of a defensive front four that helped St. Louis tie for the NFL lead in sacks in 2012 is made up of former first-round picks.
There are a dozen rookies on the current roster. Nearly two-thirds of the active players possess two or fewer seasons of experience in the league. Almost three-fourths of the 53-man roster is comprised of players with three or fewer seasons of NFL experience. Snead wasn't certain these numbers were entirely accurate, but he recalled a telling statistic that he remembered seeing recently on television: That of the 32 offensive linemen and wide receivers with whom Bradford played during his first four seasons, 24 are no longer in the league.
"If those numbers are right, that's pretty amazing," Snead said. "It demonstrates just how much change we've had and how young we are."
There's an old adage, of course, that youth must be served. In the NFL, it must also be serviceable.
Seems the youthful, new-look Rams are heeding both those truisms.