September 18, 2013 -
Jack Bechta
3 predictions and trends for 2013
1) I know I am not going out on a limb on this one but the Seahawks will be good for a long time: Why? Over the last three drafts, 7 of their draft picks are starters and several more are playing a significant amount of time in 2013. The front office is really a scouting staff from top to bottom. The GM loves getting on the road and has hired some great scouts. If you don't believe me, then why did they have about 8 players claimed on cut day by other teams, which is probably the most of any team. Even their designated practice squad players were snagged by other teams. That means they have a lot of depth on the bottom of their roster.
If you like how they performed against the Niners last Sunday night, keep in mind they had two defensive players in street clothes, which had a combined 19.5 sacks last year. In addition, Pete Carroll makes playing there fun and he also has an eye for talent. As one scout told me, "they pay their evaluators well, there are no egos about it and everyone feels secure about their job. That my friends is a formula for stability.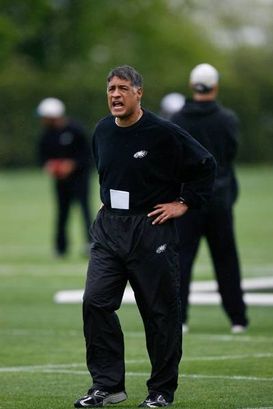 ICONJuan Castillo was hired by the Ravens to develop young linemen.
2) The league is headed for a two-tiered system: We may be close to being there already but the middle class of players is disappearing. We are looking at a roster makeup of five highly paid players and the rest of the team making the minimum. It is yet to be seen if this is a good or bad thing but as an agent I think it's bad. Owners are pushing their GMs and salary cap mangers to reward just a handful of players (about four to six) and get the rest from the draft and undrafted free agent pool.
Why is this happening? The new CBA has made draft picks and undrafted free agents so attractive that teams will part with solid players once they hit thirty years old and bet on developing a younger guy, saving money and potentially avoiding the risk of having an older player get injured. When an older player gets injured there are exponential fiscal liabilities such as the injury protection benefit, carrying a vested veteran on IR, pension requirements, workers' compensation and/or other collectively bargained injury benefits such as the line of duty benefit. It seems like the days of starting but not being marquee Guards, Centers, Tight Ends, and/or Safeties making $3 to $5 million a year are disappearing. Look for the money poured into Corners, QBs, DE's and left tackles to continue and to be accelerated versus other positions. Once this system takes root, I truly believe careers for non-pro bowl players, the middle class, will get shorter and shorter. The flip side is more young players will hit the field sooner. I also believe one fall-out of this pattern is the record setting pace of penalties and sacks that we saw in the first two weeks.
More emphasis will be put on coaches who know how to develop young talent. They will be coveted and paid handsomely by smart organizations. We could see continued sloppy football in the first quarter of every season to come. When this makeup becomes coagulated throughout the league, It will be interesting to see how a locker room of haves and have-nots will gel.
3) More injuries and potentially even more concussions: In my 27 years as an agent I had more players (six out of eighteen, or 33%) get more concussions in this preseason than any season I have ever seen. I had three players concussed in the last preseason game alone. It was kind of mind boggling with all the emphasis on player safety but I have a simple theory for the increase. (Before I explain this reason I want to be transparent in saying I don't have hard data on this years injuries and concussions versus last year and or the previous years.) I can only go from my own experience and what my players and other agents are telling me. If I were to bet, I would say there is a 20% increase in concussions and overall injuries (where players have to miss at least 3 weeks or more.
Here is my theory on why this may be happening: There are more reps in practice and in games. Coaches have learned to rev up practices using a simultaneous practice schedule. In addition, the growing use and popularity of the spread and/or no huddle offense creates more plays with more lateral movements. The more plays ran in games and practices the more chance for injury. The more wide open a game becomes, with players running more distance the width of the field, the greater chance for injury. It's simple math.
To sum it all up, teams who draft well where coaches, players and the front office are on the same page will win a lot of games.
A two-tiered system was not the intent of the players or the executives at the Union, but unfortunately for a lot of players who have to work even harder than superstars, they will be relegated to minimum salaries.
More plays and a wide-open game will lead to more injuries. Unfortunately, nothing can really be done to avoid this trend.
Follow me on Twitter: @Jackbechta