November 12, 2014 -
Jack Bechta
5 best NFL venues
I've asked several agents, media types and other professionals in our industry what their favorite stadium venues were. Along with my own experiences, here are our favorite venues. In selecting our venues, we considered the city experience, ease of logistics, pre-game, post-game and the game time experience.
Here are our top five stadiums in no specific order:
Dallas AT&T Stadium: If you haven't been to Jerry's World, put it on your sports bucket list. It doesn't even have to be for a Cowboys game but this stadium is the new world standard. What I particularly like about it is you don't have to stay in your seat for the entire game. You can bounce around and still see the games from the many TVs, screens and the massive HD digital display.
Additionally, if you are located in some premium seating areas you may get access to some fantastic club lounges complete with the premium champagne or tequila bars. The tunnel bar is a glass venue that allows you to see the players and coaches walk right by as they enter and leave the field.
Prior to the game, there is some elaborate tailgating going on with some of the most exotic grills and setups I've ever seen.
The only downside of Texas stadium is the location outside of some of the better areas in Dallas. However, it's worth the trip and you won't be disappointed. If your team is playing the Cowboys, make a road trip you'll never forget.
Green Bay: The first time I'd ever been to Green Bay in 1993, is when I fell in love with Packer-land. Driving down, what was/is an ordinary suburban like four lane street, the Stadium pops up and out at you from behind a strip mall. Your mind tells you that this thing doesn't belong here. There are literally backyards of houses across the street. It looks like somebody accidently dropped it there from the sky.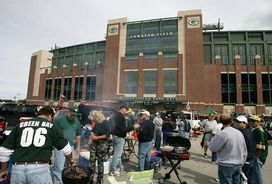 Always something good to eat outside of Lambeau.
For me, Packers Stadium represents the Mecca of pro stadiums and experiences. It appears and feels like part stadium, part museum, part monument and part capitol building. It's warm, inviting and friendly even on the coldest days in December. But what makes the Packers experience is the people/fans. They are quick to offer you luck, a brat and a beer if you are wearing an opposing teams jersey (with the exception of a Bears jersey).
Getting into and parking at the stadium is simple and cheap. Tons of tailgate parties around the stadium with live music, tents and bars. Once inside, you'll feel the intimacy with the game action because the field is close to the seats.
Seattle: When a team is playing well and their fans have something to cheer about, it always seems like a fun atmosphere no matter where you are. However, Seattle has something more to offer than a hot team and newer stadium. The whole package is one of the best in the country.
The thing I like most about the Seattle experience is that once you arrive you don't need a car or taxi. You can stay at one of the many cool hotels downtown, visit the many restaurants and explore the city by foot or bike. It does lack a traditional tailgating component but that's more than made up for by all of the activities and venues the downtown has to offer.
Once inside the stadium the crowd stays electrified through four quarters and the energy is infectious. There's definitely something organic, but yet futuristic and unique about seeing the skyline underneath the ominous northwest skies from your seat. The stadium is efficient, clean and well thought out.
Indianapolis: The Colts are lucky to have a venue that's downtown and pedestrian friendly. It's the reason why the NFL Combine, The Big Ten Championship and many other big events call Indy's Lucas Oil Stadium their home.
Indianapolis may be one of the best walkable sports towns in America. Downtown is stacked with hotels, restaurants and bars. You can easily park anywhere downtown, grab a sandwich and beer before the game and tailgate in the warm indoors. If you want a stress-less convenience, Indy is your spot. I would describe Colts fans as nice, mature and easygoing. It's a good place to take the family.
As you approach Lucas field you realize you aren't walking into a stadium but into a field house on steroids. The field house feels more like a setting for a college basketball game than a football game, which provides for a unique experience. The field house style design of Lucas Stadium is deceiving because the stadium provides for a comfortable roomy venue but yet keeps the environment intimate.
After a game, you can quickly be eating a steak dinner at one of the many fine restaurants, or enjoying another game on TV at one of the many sports bars.
Pittsburgh: Back in the apex of the industrial revolution Pittsburgh was one of the wealthiest cities in the world. Oil, steel, banking, and railroad monies laid the foundation of a city on the rise on the intersection of three rivers. The Steelers stadium is magnificently placed as a stage to the city. Night games in Pittsburgh are especially magical.
Pittsburgh has one of the leagues most contiguous fans bases. Meaning there was never a huge turnover in season ticket holders. Therefore, the Steelers fans are some of the more passionate you will ever witness. To experience their passion for their team is one of the reasons you go to the game.
You can get there by foot, by boat or by car. You can choose the experience you want. Watching the fans make their way to the stadium is like watching bees finding their orderly place on their hive.
Yes, Pittsburgh is by reputation a blue-collar town but you'll also find upscale accommodations, and some sophistication alongside simple down home eateries and watering holes. This setting was designed by the football gods.
Honorable mentions:
KC Chiefs: If you want to know what its like attending a BIG 10 or BIG 12 college game just go to a Chiefs game instead. Arrowhead is one of the few venues that emulates big college football.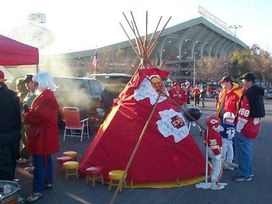 KC Chiefs fans always get creative for tailgating.
Prior to kickoff, this stadium offers a massive tailgate scene, constantly singing fans, the smell of authentic barbeque, and an orderly way of getting to your seat. Just follow the regulars and get some laughs from the many outfits you'll see.
Chiefs fans are passionate, a little out there but still mid-westerners at heart so they are pretty nice. Arrowhead represents an old school atmosphere that hasn't changed for decades. You can't help to get swept up in the fans love for their franchise.
New Orleans: A one of a kind experience in a one of a kind place.
The Linc in Philly: The fans are edgy, creative, passionate and take tailgating to new heights. The stadium has several indoor and outdoor venues and the food is damn good.
Cleveland, Houston, Baltimore and Tampa were also listed as several favorites.
Follow me on Twitter: @Jackbechta