June 06, 2012 -
Jack Bechta
5 Mistakes Most Rookies Will Make
1. Drinking then driving: One of the first things most rookies do, even before signing his first contract, is buy his dream car. Once he buys it, he wants to drive it everywhere, he doesn't want to part with it and definitely doesn't want anyone else to drive it. And he certainly doesn't want to leave it parked overnight outside the club, bar or restaurant he just left after having a few drinks. So what does he do? He drives it anyway while most likely over the legal limit for alcohol consumption. Most studies show a driver stopped for a suspected DUI gets behind the wheel 87 times prior to his arrest. However, lets not forget he's about 22 years old and many of his peers are doing the same thing. I know I did at that age!
With so much to lose and being warned by everyone, why do they still do it? Here's why: Don't want to part with the car. Riding a wave of an invincibility complex. Enablers are all around, including police officers who let many pros off when caught so they are encouraged to do it again. The thought of taking a cab is a new concept. Their friends who are usually with them are drinking even more and won't volunteer to be the designated driver.
My clients have had their share of DUI's. One client was downtown in a big city and tried for an hour a half to get a hotel room but they were all sold out. After trying and drinking water for about 3 hours he thought it was okay to drive. He went one block and got popped registering a .11, just barely over the legal limit.
Many NFL teams offer a "don't ask, don't tell car service" but many players don't trust it.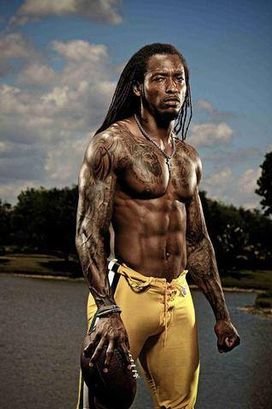 Former NFL CB Al Harris has always stayed 'ripped' by making his body and nutrition a priority.
Solution: Simple, have your friends or teammate rotate as the designated driver (btw guys, everybody loves the DD). Hire a car service and take cabs. It's a lot more fun and a lot less expensive than a DUI.
2. Buying a house too soon: In 25 years as an agent I haven't seen a lot of players make money on residential real estate. However, if a young man is constantly told that he is throwing his money away on rent and buying a house is a huge tax advantage, he will eventually do it. The problem is that most players buy too soon, too big and without thinking of resale first. Secondly, they load it up with all the extras that they will never recoup in resale. While some markets are ripe for purchasing, others make more sense to rent unless you are starting a family, have a long term guaranteed contract and you want to stay there year round.
I tell my clients to rent for a year or two, get to know the local communities first before buying and whatever you buy, plan on selling it in 5 years or less.
Solution: Be patient, be opportunistic and treat your purchase as an investment as well as a home, don't get too leveraged in case your career ends abruptly, and buy from another player who has to sell, I'm sure you will get a great deal.
CONTINUE READING ON PAGE TWO...