October 31, 2012 -
Jack Bechta
5 reasons why great prospects are undervalued on draft day
I have a player I am prospecting this year who is rated by National Football Scouting (NFS) as a late round to undrafted free agent. However, from what I can see, what his coach has told me and what scouts are saying is that he has talent that merits a second round grade. He still has a chance to be drafted in the 2nd round but I doubt he will because of some flaws in the scouting system.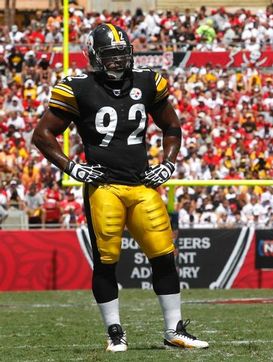 ICONJames Harrison may have warranted a higher grade.
Why potential draftees don't always get the respect they may deserve:
1) The initial Combine and Blesto grade NFS is an independent scouting service, which NFL teams currently belong. They are the people that run the Combine in Indianapolis. The group is responsible for assigning grades to players and capturing height, weight, speed stats, personal and medicals in the spring prior to their senior year. The majority of Combine scouts are also young and inexperienced.

Its member teams then use the list as a starting point to scout players. Sometimes when a Combine scout gives a player a non-draftable or late round grade, individual team scouts can easily overlook him. Especially in the case when a player may be the only prospect at that particular school as some teams may never visit the school to evaluate him. Conversely, the scouts who do discover that these players are way better than their Combine grade would prefer to keep that player a secret and get him at a discount on draft day. That initial grade can influence young inexperienced area scouts as well. In addition, those players with late round or undraftable grades don't get on the radar screen of all-star games. And of course, may not get invited to the Combine itself. If a player is not invited to the Combine he automatically gets a huge discount because all teams think the other team won't draft him. Thus the initial NFS grade can really hurt a player's chance of being fairly evaluated.

2) The player's school is hard to get to: If the school of a talented prospect is out of the way or it takes two layovers for a director, HC or GM to get there, the player may never be personally evaluated by a decision maker. If they never see him he will have a huge discount. An area scout only has so much power on influencing a team's draft board. Even schools like San Diego State in my backyard seem to be overlooked heavily by east coast directors and GMs. Kabeer Gbaja Biamila, Adam Timmerman, La'Roi Glover, Az Hakim, Kassim Osgood, Robert Griffith, Brian Russell, Ephraim Salaam, Will Demps, and most recently Miles Burris and Vincent Brown all seemed to have merited higher draft grades. Some of these players weren't drafted at all. I believe that if these players had similar college careers at "must visit" schools like Michigan or Oklahoma they most likely would have been drafted higher.
Some smaller schools with NFL prospects don't even send their tapes to the NFL clearing house to be accessed by all 32 teams. Some determined scouts would covertly make copies of DVD's to bring back to their bosses.
I also believe scouting departments are underfunded and undermanned.
CONTINUE READING ABOUT SCOUTING ON PAGE TWO...