January 03, 2013 -
Jack Bechta
5 traits of an NFL dynasty
A top NFL executive formally of the Patriots said something very humbling to me on his way to an interview with another team; "the only reason I'm getting this interview is because Tom Brady makes us all look good". I thought the comment to be spot on. As coaches and front office execs are crisscrossing the country right now interviewing for top jobs, I chatted with some current and former top football people about the traits needed to build a multiple Super Bowl winning dynasty. These are the five building blocks
1) A special QB: So what is "special"? Special means that the QB can make plays that other QB's can't. They can win games on their own. They are like an extra coach on the field. You want the ball in their hands on the final series of a game when your team is behind. They possess traits that can't be coached. They help to build chemistry in the locker room. They are uniquely durable. Peyton Manning is the model for "special" because he possesses multiple traits. Brady, Eli, Brees, Roethlisberger, and Rodgers are all special. It looks like Luck, RGIII, Keapernick, and Wilson have a chance to develop into special breeds as well. A special QB can hide a lot of a team's deficiencies in other areas. A special QB makes his line better by getting rid of the football. He makes his receivers better by giving them chances to make plays. He takes pressure off the coaches by making the right adjustments at the line of scrimmage. Unfortunately, there most likely will never be 32 of them. Sure you can still win an occasional super bowl with a good QB but just take stock in the last 25 super bowl winners, as the vast majority were won by "special QB's".
The Bears signed Jay Cutler in 2009 because he possesses special traits that can't be manufactured or coached. Like him or not, he can be a special QB based on release and arm strength alone. However, they don't grow on trees so a team may have to take risk and some may even take some time to develop (Brees is a good example). What Brees lacks in physical traits he makes up for in intangibles. You want a dynasty; you have to have a special QB.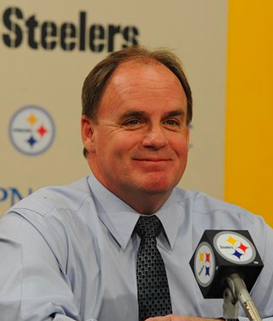 Kevin Colbert quietly goes about keeping his talent pipeline full by developing young players.
2) Stability at the top: The Steelers, Ravens, Falcons, Saints, Patriots, Giants, and Packers have it. These teams have philosophies, systems, and leaders that are strong and proven. I love sending young players to these teams because I know they will be developed. These teams have plans for every one on their roster and practice squads. The owners also have limited roles and trust the football people to do their jobs. It looks like the Texans, Niners, Seahawks, Redskins, Colts, Vikings and a few other teams are developing stability. When a team has a stable environment there is great communication up and down the chain of command from the owner to the equipment manager. The GM and head coach talk often and keep chemistry between coaches and the personnel department. Chemistry in an NFL front office is more elusive than people realize.
CONTINUE READING ABOUT DYNASTY BUILDING ON PAGE TWO...