February 10, 2011 -
Jack Bechta
$7.7 million spent on training rookie class
If the NFL Combine was on television 20 years ago, you may want to watch it for different reasons then you would watch it today. When you tune in on February 26th to check the newest draft class, you will see fit, cut, and well trained athletes performing several different skill tests with ease. 20 years ago however, you would have witnessed some of the ugliest flabbiest bodies that would make you puke. You would witness multiple stumbles on 40 starts and highly rated draft picks tripping over their feet through the 3 cone drill.
So what has changed? The agent community started investing into preparing draftees for the Combine. One of the first pioneering agents was none other than Bruce Allen, now GM of the Redskins. Bruce started training his first draft class in 1986 with Warren Anderson of Makeplays.com who is still in business today. When IMG was in the football representation business they had a whole campus located in Bradenton, Florida dedicated to training all their athletes in all sports.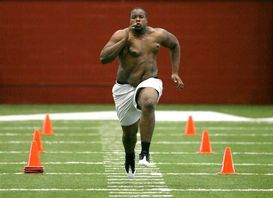 Scouts don't always judge a book by its cover. However, it helps to pass the eye test.
Here are some links to some of the more popular NFL facilities:Tom Shaw and Mark Verstegen then took the Combine prep training to a whole new level. What eventually started out as a recruiting tool for the largest agencies soon became a commonplace service by all agents as several more facilities sprung up around the country.
Athletes Performance
Make Plays
Plex
Velocity Pro Prep
Tom Shaw Performance Enhancement
Along with pre-combine specific training, these facilities also offer many add on services such as: nutrition, massage, interview preparation, chiropractic, yoga, meal plans, and film study. Many of these companies have also hired former players and coaches to teach position specific drills. In addition to the paying for the services, the agents must also supply housing, transportation and even "walking around money". It's not unusual for one agent to invest over $100,000 dollars to train 4 to 5 clients for 8 weeks.
The effect of this investment is better conditioned and better prepared rookies headed into camp. In the 70's, 80's and even the early 90's it was typical to have draft classes that would report to camp dreadfully out of shape, especially if they received their signing bonus several weeks before camp. Actually, it's a fact that several owners purposely wait to get deals done just days before camp so they don't have their rookies walking around with a pocket full of cash getting fat and lazy.
Rookie Quarterbacks can call for an even larger investment by adding on a QB specific coach. In addition, a QB should have more media and interview training than most other players.
Here are a few of the independent QB coaches currently tutoring the future class of NFL quarterbacks.
Tom Martinez
George Whitfield
Bob and Rob Johnson
In comparing notes with other agents, we estimate the 7.7 million dollar investment is broken down as follows:
25k each for the first 50 top rated draftees = $1,250,000.
20k each for the next 50 highest rated players = $1,000,000.
15k each for the next 100 highest rated players = $1,500,000.
12k each for the next 100 highest rated players =$1,200,000.
10k each for the next 200 highest rated players = $2,000,000.
7.5k each for 100 potential undrafted free agents = $750,000.
Total investment: $7,700,000.
NFL General Managers and coaches have been extremely pleased about the condition of their draft picks. However, when a draft pick does show up at the Combine out of shape, it's a huge red flag considering the investment and support the players are getting from the agent community.
Follow me on Twitter: @jackbechta