October 21, 2010 -
Jack Bechta
A new landscape for agents?
I have represented several players who left their respective college programs disgruntled with the program. Occasionally, you can witness it yourself before a Monday Night Football game during the offense/defense player introductions. The player says his name and instead of naming his college, he inserts his high school. That's usually meant to be a slap to his college.
If a college player who is a potential pro is upset with his program, he's more likely to take money from an agent. On the other hand, those college programs that are committed to helping their players select agents and get ready for the combine and pro day have very few problems. When a college head coach is committed to helping his exiting players transition out the door, they garner more loyalty and create fewer problems.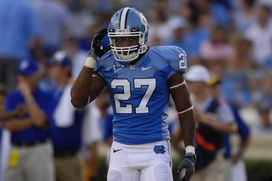 ICONDeunta Williams is just one of several UNC players to be suspended by the NCAA
Some colleges go as far as having an agent interview period in the spring in which they facilitate the meetings with agents, players and parents. Some are effective and others are a waste of time for both the agent and the players. I believe Butch Davis tried this approach in the spring by inviting in 3 experienced agents to talk to his players. None of these agents were suspected of paying his players who were recently suspended.
Regardless of his efforts to give his guys some early options, it was too late as money and trips had already start changing hands between other agents and players.
Butch knew he had the most talented pro prospect group on the planet and he knew the agents would be coming. So he tried to show his players that they will have solid options and that there was no need for them to engage agents in the shadows. Although this method didn't work for Butch, it has worked for several other coaches.
From what I am hearing, the NFL, the Players Association and the NCAA are having high level meetings to come up with a solution that would formalize the agent process. I'm also hearing from agents that players and parents are more scared than ever to engage them prior to the end of the season. This does hurt smaller and mid size agents who usually need more time to build a rapport before the mega agency shows up with their Hollywood produced presentation that can easily intoxicate a young man.
Talks of a rookie wage scale are also real and have the agents wondering if it makes sense to continue to foot the bill for combine training that can cost upwards of $15,000 per client. If the rookie signing bonuses are dramatically reduced, the agents will have to wait longer to turn a profit on a player. If this is the case, combine training facilities may have to start lowering their fees.
Changes for the industry may be just around the corner, I hope!
Follow me on Twitter: @jackbechta