July 15, 2010 -
Jack Bechta
A night at the ESPYs
Working in the sports business for over 20 years has been great. One of the greatest dividends of being in "The Biz" has been having access to some of the most exciting events and parties in the world. Even though I don't represent a slew of household name clients, I have been fortunate enough to get invited to or attend some of the sexiest functions on the planet (ten Super Bowls, NBA All-Star & Playoff games, movie premiers, the Monaco Grand Prix, derbies, Playboy Mansion parties, celebrity golf tournaments, four Pro Bowls, the Phoenix Open, etc.)
I have to rate the ESPYs evening as one of the best events ever. It's a clash of jock nirvana and Hollywood cool with a slice of Entourage hip. It's the one place where the best athletes in the world are relaxed, accessible and all located under one roof in downtown L.A. Here you find that everybody in attendance is used to being around celebrities. Movie stars are mixed in with a sea of athletes and super models are sprinkled throughout, while food and libations are served non-stop.
In 2008, the year Justin Timberlake hosted the show, I attended the ESPYs with client Al Harris. From pre-party to after-after-party, the fun never stopped. Some snap shot moments: getting to meet one of my heroes, Julius Erving, watching Aaron Rodgers and a group of other A-list athletes form a line to take pictures with Jared from Subway, 6'5" WNBA players rapping with 7'2" NBA players and wondering how tall their kids might be if they hooked up, and the world championship Celtics still high off their win over the Lakers.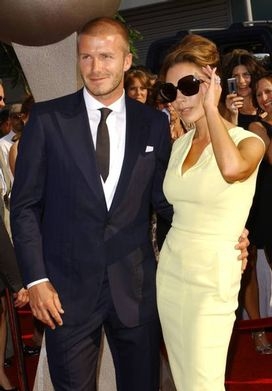 iconDavid and Victoria Beckham pose for cameras and fans before entering the awards.
Some other memorable moments included Justin Timberlake asking Brett Favre straight out, in front of the whole audience during a commercial break, if he was going to return, Posh Spice not being recognized and being pushed out of the way by fans to get to Beckham, and Al Harris telling Greg Kinear, who was sitting in front of him, to slide to the right 6 inches because he was blocking the floor camera man from getting a close up of him. Al thought Greg was a seat filler.
Here's a glimpse of what the ESPYs are like for those in attendance:
Pre-parties:
Celebrity poker events, fashion shows, and cocktail hours are held through LA the entire week of the ESPYs.
A variety of gifting suites are set up for celebs to visit and pick up all kinds of schwag, from deodorant to fancy watches.
The main event:
Walk the red carpet.
Find your seat while everyone is getting ripped up by the warm-up comedian. You never know what athlete, model, actor or TV exec you'll be sitting next to.
The immediate after-party is held right next door, complete with an open bar, live music, and a loosely-guarded VIP area where legends are accessible and engaging.
For the most part, the athletes are on their best behavior, especially the NFL football players who are gearing up for camp. After that party, the crowd starts to splinter off to some other venues around the city, like PlayHouse and Vibiana.
This is definitely one of these events that are more fun to go to than to watch on TV, especially if you manage to ride an athlete's coattails or have a friend high up on the ESPN ladder. I know I will be attending as many of these as I can.
Ready for fantasy football? Click here to purchase the Total Access Pass/ Draft Guide from the NFP.
Follow me on Twitter: @jackbechta