November 23, 2011 -
Barry Dorey
A peek inside the Harbaugh DNA
Working with Jim Harbaugh over the years has given me an intimate peek inside his mind and into his family life. And one of my favorite Harbaugh experiences was watching one of John's Ravens game with mom Jackie and dad Jack.
The setting was on a Sunday at Jim's Palo Alto home after a Stanford game the day before.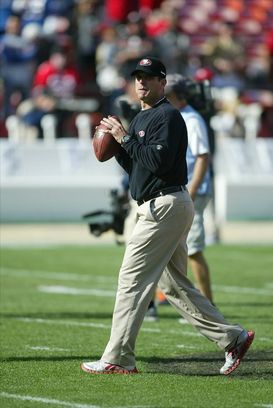 Jim thrives on competition
Jim was busy fielding calls from recruits, parents, coaches, alums, administrators and Stanford staff. He had recruits in town along with myself and some of his friends, and was multi-tasking and watching the game between calls. One of the things I most admire about Jim is that he is transparent and truly loves the process of his job. As a college coach he loved recruiting, his office door was always open and he embraced every facet of his duties without moaning about his lack of personal time or the laborious not so fun components of the job. Even that day as Jim's phone continuously rang he never winced or rolled his eyes, even though he wanted to watch John's game. As always, he was on top of everything required of him with enthusiasm and focus.
Jack was sitting on the sofa playing with his newest granddaughter with one eye on the game. Jack has a presence that is relaxed and confident with a constant look about his face that projects that he has a great secret or he looks like the cat that just swallowed the canary.
The night before, just an hour after Jim posted a Cardinal victory over Notre Dame, Jack and I were walking through the Stanford grove and he just stopped in his tracks. He looked around, took a deep breath through his nose while simultaneously raising his palms up about stomach high. He then exhaled with a twisted smile and turned to me and said, "doesn't the air just taste better after a win? Can't you feel the energy running through your skin? God I love winning." And we walked on. It was Jack's way of rolling around in the victory like a dog does when he finds something smelly on the ground that he wants on his scent.
Back to the house and the Ravens game: This was my first chance to spend some time around Jackie Harbaugh and after doing so I got a better idea how both Jim and John were molded. There's no doubt that the boys are sons of a coach in Jack. But they are also the sons of a passionate and eloquent woman who demands fairness, accountability and isn't afraid to speak her mind. Jackie spent the entire game pacing on her feet doing some coaching, criticizing the refereeing and talking to John as if he could hear her. She was the most animated one in the house that day and I saw where Jim and John get their passion.
CONTINUE READING ABOUT JIM AND JOHN HARBAUGH ON PAGE 2