January 13, 2011 -
Jack Bechta
A ruthless business
January 4th, 1999: I'm sitting in my hotel room at the Philadelphia airport Marriott preparing for my meeting and presentation with Penn State offensive tackle, Floyd Wedderburn. I have been in touch with Floyd on just a few occasions but have spoken with his mother frequently. It was Floyd's idea that we meet at his home in Upper Darby, PA on this particular date after the Outback Bowl.
I was told by several people close to him that his mother was the key to landing Floyd. I wanted to represent Floyd because he was a local kid from where I grew up, even though I had moved to San Diego. Floyd was a PSU/BIG TEN player who I respected and he was also rated to go as high as the second round.
Since I had already landed Penn State and Upper Darby star offensive tackle, Todd Rucci (2nd round, Patriots 1993) a few years earlier, I thought I would have a great shot at signing Floyd who took a similar path as Todd. After all, I grew up in the area, had Todd in my corner and already won over his mom. In addition, I had the Eagles 1996 first round pick, OL Jermane Mayberry and was establishing myself as a specialist for offensive lineman.
As the snow came down outside my window 5 hours prior to the meeting I called Ms. Wedderburn to firm up the directions to their home. Everything was running smoothly with exception that I never heard back from Floyd since after his bowl game.
I packed my brief case, adjusted my tie, ran the lint brush over my suit again and checked my teeth to make sure there were no remnants of the cheese steak I ordered from room service.
As I was heading down the elevator my phone rang. It was Ms. Wedderburn telling me she can't find Floyd and we should postpone the meeting. I said "sure, no worries" and sat in the lobby in my A gear waiting for the green light. I tried Floyd a few more times but no response.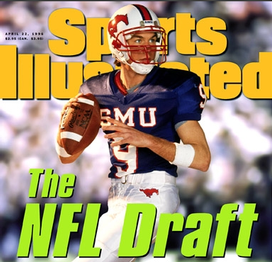 "The Cush" led Jerry Maguire all the way to the altar before marrying Bob Sugar.
After 3 diet cokes and 2 hours later I finally heard back from Floyd's mother via my cell. She said, "I'm so sorry Mr. Bechta but Floyd just told me he already signed with an agent." I was pissed. I said, "Does he know I came all the way from California to specifically see him?" She said, "I'm sure he does, he knew about the meeting and told me he was interested in meeting you. I'm so sorry Mr. Bechta."
Floyd's draft stock dropped somewhat and he eventually got drafted by Seattle in the 5th round and played for 4 years. I don't remember who he signed with.
The trip to Philly probably cost me a total of about $1,000, counting airfare, hotel and rental car. Unfortunately, I have several more stories like this one, as every agent does.
In 1991, I once waited 4 hours for a wide receiver from Texas and his father that never showed up at the airport. When I finally tracked him down over the phone he told me that he lost the tickets and wants to come the following day. So I had to purchase two new last minute tickets.
I can tell when he showed up that something was not right. He and his dad took full advantage of my hospitality and of course didn't sign with me. To add insult to the situation, I later found out that the player had cashed in the original tickets prior to the trip. Another $1,200 bucks down the drain.
Since being stood up by Wedderburn in 1999, I have been more selective on who I recruit and have not been used and abused or stood up since. Agents will spend thousands of dollars schmoozing and entertaining new recruits. This agent however has been out of the schmoozing business for quite some time. Instead, I work hard to pre-qualify the relationship first, look for clients with high character standards and an enormous work ethic. I only sign a few new players a year but the ones that I do seem to work out very well.
Follow me on Twitter: @jackbechta