July 04, 2012 -
Jack Bechta
Acts of Valor
If you haven't seen the movie yet, Act of Valor, today or this week would be a good time to rent it. What's unique about this movie is that there are real Navy Seals acting out realistic missions that may have actually occurred, or not (wink wink), or will. The message of this movie is simple; there are American men (and women) who are willing to sacrifice everything for their country, their fellow soldiers and the cause they believe in… that is protecting our Nation and all of our freedoms.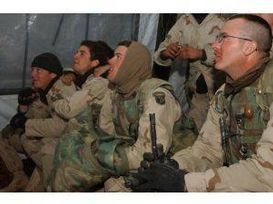 The troops taking a quick football break.
These are smart men, (usually Ivy League types, Naval Academy, West Point, masters degrees etc.) and many from well to do families who could have made millions on Wall Street or in the courtroom. However, service to country comes first.
These men and women of the armed forces protect us so we can go to football games and not worry about being blown up. They do such a great job that it's easy for the rest of us to take our safety for granted. For that, I thank all those who have served, are serving and who will serve. I sincerely appreciate your individual sacrifices and acts of valor.
The military and the NFL have a very close relationship. My friends who serve abroad tell me that watching a game in a tent in the Middle East or on an aircraft carrier far from home makes them feel closer to home than anything else. Many teams have a military day, send their coaches and players on tours and best of all the flyovers! Nothing, and I mean nothing is better than fighter jets, helicopters or C-20's flying over the stadium at the end of the national anthem. I tear up with pride just thinking about it. The other great one is watching the American bald eagle leaping from the upper decks, spreading its huge wings and slowly circling the stadium with its proud profile and ever-confident piercing stare.
So enjoy the best of the NFL flyovers, and the please leave your comments for the armed forces and let them know how much you appreciate their service.
As I sit in the Mediterranean on vacation amongst Spanish, British, French, German and foreign boats and yachts of all countries, we raised our American flag first thing in the morning high above to let others know we are proud to be an Americans.
Happy Birthday Americans and cheers to our forefathers for their work in forging the best country in the world.
Here is a message from one of my clients:
Colts Pat Angerer: "There's nothing more honorable than putting it on the line for the people of this great country. We are extremely fortunate to have our freedoms protected and defended by such amazing individuals. On this fourth remember all who have given some and some who have given all."