May 25, 2011 -
Jack Bechta
An agent's answer to: "Why don't we have football?"
An agent's answer to: "Why don't we have football?"
On Monday, May 23rd, I was a panelist on a round table discussion for a monthly gathering of San Diego Judges, District Attorneys, and lawyers. The room of about 80 legal eagles chatted, debated and talked about the state of labor in the NFL, the NBA and MLB. I thought this would be a good opportunity for me to get a parking ticket fixed. What I didn't expect was the position the room took towards the NFL labor issues. I thought the group would love the fact that the future of the NFL is momentarily in the hands of judges and lawyers. However, I came away with a deeper concern about the players I represent and the uncertainty the future holds.
The first question I was asked: "Why is there no football?" Here was my answer:
The owners opted out of a deal that had 4 years left on it because they felt it weighed too heavy in the players' favor. They simply want a better deal. In addition, I see 4 other more intangible reasons we are without a new CBA to date.
1) We have yet to hit a hard deadline. Football executives and lawyers are used to working against hard deadlines. Many of the player reps were first round draft choices, whose first deal got done right before camp, the day of or beyond. They're second deal may have come right before or after the free agency deadline, so they understand that the best deals in the NFL usually get done up against a deadline, or even slightly there after.
We did have and do have, what I call soft deadlines, in which 2 have already come and gone. The first was the expiration of the CBA on March 3rd. The second was the start of the NFL draft on April 28th. To me, the third soft date, believe it or not, is probably the third week of June. That's when the owners want to hit Sardinia and Martha's Vineyard. The coaches hit the links and everybody employed by the NFL exhales for 2 or 3 weeks. Simultaneously, all the players scramble around the country to go on vacation as well. And everybody in this country likes to get things wrapped up before vacation. However, this year, everybody is on call and hesitant to make plans. Additionally, Head Coaches will quietly push to get access to their players.
Unfortunately, the next hard deadline is the opening of camp. The first camp opens on July 23rd, then the next hard deadline is 3 weeks prior to the start of the season as teams will need at least that amount of time to field a competent and healthy product.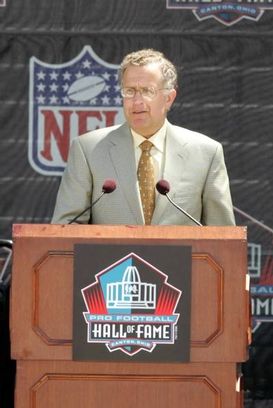 Paul Tagliabue spent 17 years as Commissioner of the NFL before Goodell took over the reigns in 2006.
2) The Players are actually enjoying the time off. The veterans, especially, love resting their bodies and spending additional time with their families. The collective motivation to go to mini camp and OTA's isn't there, yet.
3) Lack of history and relationship at the very top. Roger Goodell and DeMaurice Smith don't have history, and are two different types of guys with completely opposite styles. Roger is a roll up the sleeves, lets grab a drink and get to know each other kind of guy. He can be very informal, personable and even compromising. DeMaurice on the other hand is very formal, all business and doesn't make a move without a calculated agenda. Both styles can be highly effective in any business arena but usually don't work well together. Gene Upshaw and Paul Tagliabue had history and could communicate honestly with each other. That trust came together over years of prior battles and issues they overcame together. Roger, almost 5 years into his job as Commish, and DeMaurice with only 2 years into his job, haven't had a chance to have a history but are making it right now.
4) A dangerous precedent. When Demaurice was elected to lead the union, I believe he was hired by the players because he was a proven and experienced labor expert. He came into a situation where players have enjoyed the most robust pay levels, benefits, and working conditions in NFL history. Now he is being asked by the owners to give some gains back without the proof of hardship. So, why in his right mind would he want to be known as "the guy who gave back" gains that the players endured pain and decades of work to achieve? There is no real upside for him here to simply make an "adjustment" to the current deal because the owners don't like it. The owners have to realize this and have to give him a lot to work with if he is going to give anything back in term of gross revenues along with a lower salary cap. He has to walk away from this potential new CBA with a net gain for the players in other areas such as improved working conditions, long term benefits, guaranteed contracts, shorter terms to gain free agency and more proactivity on the injury prevention front. Furthermore, he can't start a precedent that; it's just okay to adjust down revenues at the end of every CBA.
Interestingly, I was surprised to learn that the lawyers and judges I spoke to during and after the symposium were collectively in agreement that there is a lot of danger with the NFL labor issues being in the courts. As one prominent long time active San Diego judge told me, "we have the tendency to keep peeling the onion and even deconstruct that of which took years of battles, negotiations and decades to build". Another prominent San Diego sports Lawyer and USD Law professor, Len Simon, stated that, "the NFL draft, salary caps, wage scales, and the current free agency system are all illegal outside of a the CBA. If left in the courts too long it can potentially all be unraveled."
To my surprise, the legal prefessionals took off their lawyer hats and vented just as any other concerned fans would do and emphasized to me to take the game out of the courts hands. I left the round table with uneasy feeling and an unfixed parking ticket.
Follow me on Twitter: @jackbechta