November 25, 2010 -
Jack Bechta
An NFL Thanksgiving meal
The Turkey:
The league is dead serious about stopping violent and reckless hits on vulnerable players. The attention the issue is getting is not a temporary thing that will eventually go away. It's actually a full court press with designs to completely eliminate devastating and malicious play for good. In a recent conversation with VP of NFL football operations, Ray Anderson, he called it his number one priority with zero tolerance against violators.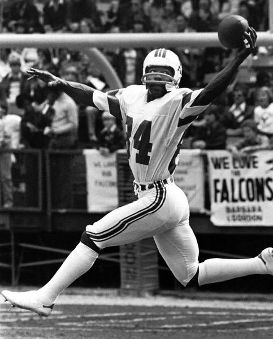 Darryl Stingley still resonates strong with NFL executives.
Ray's motivation to enforce the new rules comes from a place higher than the Commissioner's office. He had spent some intimate time with the late Darryl Stingley and saw firsthand the life changing results of a devastating hit on a defenseless player. He told me the time he spent with Darryl resonates with him in the enforcement of this policy.
Ray also told me that the NFL is already seeing a positive trickledown effect of the new policy all the way to Pop Warner. Coaches, leagues and officials are implementing new rules as well in midseason just as the NFL has done.
Ironically, not too long ago the league and its big media partners were the enablers for the promotion of vicious hits. Do you remember the ESPN segment "Jacked Up", where they showed the top 5 hits of the week? The NFL itself produced countless teasers laced with big hits to promote upcoming games. It's no secret NFL players strived to get into a "Jacked Up" segment. But now players are playing with a more conscientious effort to avoid big fines and a possible suspension.
I am thankful for a healthier work environment for the players!
Stuffing:
I'm hearing that several agents are still under investigation by the NFLPA for giving illegal benefits to college players. The findings are laid out by the NCAA and they have a smoking gun on one agent and a lot of hearsay on the others.
All hard working agents will be thankful if some real discipline ever finds its way to the cheaters.
Trimmings:
It's no secret that several NFL owners are on cruise control. They are collecting their slice of the pie from the league partnership and putting very little back into their teams. We are seeing more blackouts as a result of inferior products on the field. Fans are sending a message by dropping their season tickets and not going to games. Those fans have company in high places. Those owners who create value for their own team and the league as a whole are also getting tired of watching their partners take from the system and give very little back.
Ironically, cash spending on players by owners for this year is actually up over last year, but it's concentrated on fewer players and most likely the result of not having a capped year. It's also the same owners who usually spend tying up their best players.
I'm thankful for those owners who love to compete and invest!
Dessert:
There are about 2000 NFL players counting all the practice squad guys. There may be 2000 players with a lot of time on their hands come March if there is no new labor agreement. These players usually attend mini camps and offseason workouts set up by the teams. Every team has that voluntary-mandatory offseason workout program that lasts about 12 weeks (mid-March thru June). The great things about these programs are that they keep players in shape and in touch with the teams.
If the lockout goes into effect players will have to create their own off-season programs. Although many players do this on their own, there are hundreds who need the guidance of a structured environment. I fear that if a lockout goes into August, many players will be out of shape and sustain injuries if and when they have to jump right into intense practices.
I am thankful if we can get a deal done sooner than later.
Happy Thanksgiving to all!
Follow me on Twitter: @jackbechta