June 29, 2011 -
Jack Bechta
Are NFL writers too negative?
About 10 years ago, I sat on a panel called the "current state of sports" with the sports editor of the San Diego Union Tribune and a few other sports professionals. The subject matter of a pro athlete's "duty of giving back" came up for debate. The sports editor then told the audience of 200 people that, "every pro athlete has a duty to be charitable and give back to their community because they've been blessed with talent and the ability to make lots of money". He also said that it was his opinion that only 10% of all pro athletes actively give back.
I called "BS"! I said I strongly disagree and they are giving back in droves but sports editors don't encourage their writers to spend time to find out about it and won't print it because it doesn't sell newspapers or garner traffic like a negative story does. I also said to the editor that, "you probably only see 10% of it because writers like you don't dig to find out what's going on off the field, unless of course it's something negative".
I went on to tell the audience and the editor that it's as much as a "duty to give" as it is "a sports writers duty to write about it". What anyone does with their own money is very personal and just because an athlete doesn't make a newsworthy splash with his money doesn't mean he is not giving back in some way.
I know for a fact that every single one of my 20 plus clients, and the vast majority of my retired clients are and were doing something very positive with their time and/or money. However, most sports writers and bloggers don't spend the time and energy to research and investigate what charitable activities NFL players are doing off the field.
I know that news about a DUI, an arrest, or a player's domestic issue is popular. But I also know there is room for more effort towards positive reports as well. It just takes a few phones calls to the agents and/or marketing/PR people who work for the players to find out what's going on.
Since there is no football or transactions to talk about, I will share a few of my clients' favorite charitable stories.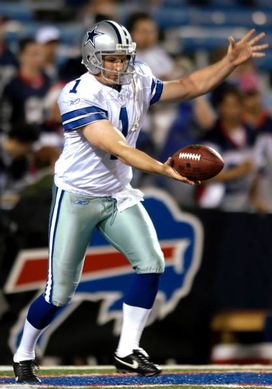 ICONClient Mat McBriar started his annual charity, "Mat McBriar's Holiday Kicks for Kids" to benefit children with Muscular Dystrophy last year.
My number one has to be retired client and Eagles first round pick Jermane Mayberry. Jermane was diagnosed with Amblyopia, which has led to him being legally blind in his left eye. As a young adult Jermane always assumed that the blackboard was blurry if you sat anywhere but the first row in school. It wasn't until he was 16 that he received his first eye exam and his lazy eye was caught, however, it was too late to be fixed. Had he been diagnosed at age six or seven, his symptoms would have been detected and the problem fixed.
The first day we arrived in Philly, the week after the 1996 draft, as a negotiating tactic, I turned the conversation to Jermane's sincere willingness to pitch into any of the owners community efforts. The conversation quickly snowballed into a tangible idea called the Eagles Eye Mobile. The program quickly took shape and Jermane promised to commit a sum of one hundred thousand dollars before signing his first contract. Needless to say that sped up negotiations and a program developed that was born from Jermanes's own idea of providing eye tests and even glasses to young children within the Philadelphia area.
To date the converted RV that is the Eagles Eye Mobile screens thousands of underprivileged kids per year and has prescribed about 70,000 pairs of glasses and led several sight saving operations. Just think, exponentially how many lives Jermane's efforts have affected or will affect. The fact that 80% of learning is visual means that these kids have a better chance in succeeding in school and even going to college. If just one of these kids goes on to be a doctor or scientist, he or she will then positively affect the lives of thousands of more people.
Early in his career Jermane saw some tough times but he would tell me his favorites days were always those in which he'd see the kids come on the mobile eye clinic he funded to get their first pair of glasses.
Another one of my clients, WR/returner and Iowa fame, Tim Dwight, is a serial giver. He once heard that a young Hawkeye fan was terminally ill and wanted to meet him. Tim not only showed up to meet the young man but he brought with him a wad of cash and a Winnebago and told the parents of the boy to take the cash and the vehicle and show the young boy everything he wants to see.
Falcons DT Jonathan Babineaux is one of my most active clients in his communitiy. He has an active foundation, he has yearly fundraisers and he gives his time whenever asked. The City of Atlanta has actually declared June 20, 2011, "Jonathan Babineaux Day" to honor Jonathan for all of his off the field efforts.
Giants rookie client Tyler Sash, recently put together a fundraiser to aid a member of his hometown community who was diagnosed with lung cancer. Tyler and his efforts helped raise $22,000.
Eric Steinbach of the Browns, Pat Angerer of the Colts, rookie Ricky Stanzi of the Chiefs and all of my clients are always doing something on their own time to help make a positive difference in the world. I also know that 90% of NFL players are involved with donating money, time and or resources to a variety of charitable efforts.
I challenge all the NFL writers and bloggers to take this unique downtime in the NFL to dig, discover and share how some of our favorite and even not so well known players are making a difference.
Follow me on Twitter: @jackbechta