March 01, 2011 -
Jack Bechta
Assistant Coaches have labor issues of their own
In contrast to the high stakes, high profile CBA battle playing out in the media between players and owners, there is another group with labor issues waiting on deck to get a turn at negotiating with the owners. Unlike the players, the Assistant Coaches will take a lower profile approach to getting what they want.
During the NFL Combine, the Coaches Association president, Larry Kennan, met with the majority of coaches to talk about their issues. Larry told me that he; "saw a group this year that was more unified than ever and more nervous than ever".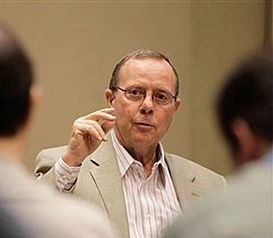 Larry Kennan leads the charge for NFL assistant coaches.
Assistant coaches are witnessing their pension benefits (rule of 75 plan, matching contributions) and, even at some clubs, their pay levels erode away over the last few years. Larry said there are now about 13 teams that opted out of the uniformed pension plan that all teams belonged to for over 40 plus years. He also believes that another 4 or 5 teams will opt out by this summer.
Some teams even went as far as completely eliminating pensions and health benefits. Each team is responsible for their own pay scale and benefits package, so coaches are frustrated with the lack of uniformity between teams. In a business where assistant coaches' job security is limited to their team's most recent performance, it's extremely frustrating for coaches (and their families), as the majority will coach for several teams over their careers. When benefits and vesting years don't transfer from one team to the next, coaches are finding their retirement benefits going backwards. And with about 15 to 20% of coaches getting fired every year, NFL coaches are starting to rethink their job choices. The issues have even forced many to take college jobs where contracts can be longer with stable retirement benefits.
Even though NFL assistant coaches are paid well, they work 18-hour days during the season and 10 to 12 hour days in the off-season. Thus, on a per hour basis, the pay is comparable to that of many high-end blue-collar workers. However, every few years they have to come home and explain to their wife and kids that they have to move again, sell the house, up root the kids from school and move to another city for another job. They also have to sometimes forfeit benefits they accumulated at one place in order take a job at another.
One coach told me over the weekend that he turned down two jobs with teams that had inferior pension benefits to take a lower paying job with a team that had the formal plan still in place. A few days after accepting the job, that particular team also opted out of the pension plan.
In the recent conversation with the Coaches Association president, Larry Kennan, he told me that; "he and coaches are waiting patiently, quietly and respectfully on the sidelines while the owners deal with the NFL players union to resolve and forge a new collective bargaining agreement". He said; "that once a deal is struck he wants to talk to the owners about striking a deal for the assistant coaches that simply brings back their uniformed retirement benefits to where they once were with each and every team". He also said that; "he does not want to form a union but may have to if the owners do not address the issues." He feels confident that he would have the support of the National Labor Relations Board and will lean on the NFLPA to spearhead the cause.
As an agent who represents coaches, I would like to see the owners reinstitute a transferable uniformed pension plan. NFL coaching is a stressful job, especially for the wives who worry more about the stability of their families. But the transient nature of the business is an inherited risk.
When I spoke to one seasoned GM about the coaches grievances, he said that; "coaches have to be very careful in how they approach this issue. If they unionize and get want they want, about one third of the top highest paid coaches will be out of job and on the street in less than two years." Ouch! Scare tactic? Or fact? Time will tell.
One bright spot in the plight of the assistants is that many of today's head coaches have been association representatives and are sensitive to the issues. Head Coaches are considered management and collectively may have the power to convince owners to bring back the uniform pension plan; especially if they feel they are at a hiring disadvantage over those who have the plan still in place.
Follow me on Twitter: @jackbechta