April 25, 2012 -
Jack Bechta
Behind the Scenes of the NFL Draft
The NFL has been embarrassed on several different fronts of late. Most recently, the leaking of sensitive player information such as failed drug tests and wonderlic scores. This is more serious than the league is letting on because of the potential for legal action against them by the draftees. However, the conundrum for the players is they would be suing their potential employer. Can you say "awkward"?
I am sure the Commissioner will want somebody to hang for these leaks and to set an example for the rest of the league. The irony of the leaks is that their own network is reporting them, which is also an awkward situation. The individuals who are giving this intel to media are doing so for one or two reasons. One, they purposely want the player's stock to fall because they actually like the player. A failed drug test or low wonderlic score doesn't always scare off a team from drafting a player, however, if a GM or head coach has to defend their pick in the court of public opinion they may just as soon pass on the player rather than having to explain why they drafted him. Two, the NFL exec is just way too chummy with the media and wants to give a nugget to his reporter buddy. Either way, the embarrassment to the player will tattoo them for life and I hope the NFLPA is leaning on the league to stop the embarrassing leaks.
Agent hype and last minute pitches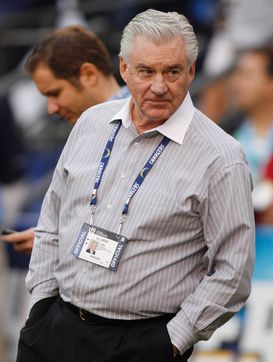 Agents don't tell AJ Smith who to call on draft day.
The agent propaganda machine has been running on all cylinders this week as we try to do whatever it takes in order to manipulate our client's draft stock. Much of our efforts are in vain as draft boards are usually set and we don't have a big influence on the outcome of the draft, as many high profile ego maniac agents will lead you to believe. For example, please don't buy into the image of the agent on the phone when he is sitting next to his client who hasn't been drafted yet. When the draft analyst on TV says, "his agent is working the phones", (giving the impression he is engineering a trade or convincing a team to draft his client) it's just a show for next years draft class. Agents do not tell a team who to draft and when.
We can, however, help our clients this time of year by providing some last minute facts to clubs such as the status and backstory to a positive test. Or, the latest doctors report on a draftee's injury that some NFL teams may have a concern about. Our time is best spent this week helping clubs increase their comfort level with the players we know they already like. Just having conversations about a client, and keeping their name fresh in the mind of the HC, GM, and/or scouting director can even do this.
The undrafted free agent market
With the addition of ten more roster spots per team going into the 2012 season, up to 320 new opportunities now exist for undrafted free agents. Some of these spots will go to street free agents but the majority will go to college players. The fact is that this year we may see over 600 undrafted free agents signing contracts. This will make for an already chaotic process that much more challenging for teams. Immediately after the draft, and as early as the 6th round, the draft war rooms will morph into a boiler room operation where speedy sales pitches will be slung to agents for the services of their undrafted clients. With only $75,000 per club to work with for signing bonuses, we might see an average signing bonus of about $5,000 to $7,000 for a priority free agent get diluted down to $3,000. Regardless, the two hours after the draft is where some teams can find some gems and where an agent's decision on what team to place their client can make or break the player's career.
There is still a lot of work going on behind the scenes as the draft draws near. Good luck to my three clients and to all the college players who have worked hard to have their names called over the next three days.
Follow me on Twitter: @Jackbechta