October 05, 2011 -
Jack Bechta
Building a wealthy NFL client
Even some of the most successful and brightest players struggle to figure out what they are going to do with their lives after the last whistle. Even though they are constantly reminded to start planning for life after football, have the opportunity to leverage their status to gain access to corporate America, and have tools provided by the NFL and NFLPA to continue school or get internships, the majority ends up drifting in the wind for many years after retirement before finding their next career. Many never find a second career and even become self-inflicted with alcoholism, poverty and depression.
So when I received an email yesterday from one of my young clients seeking some advice, I was very excited to help him. This is the exact email;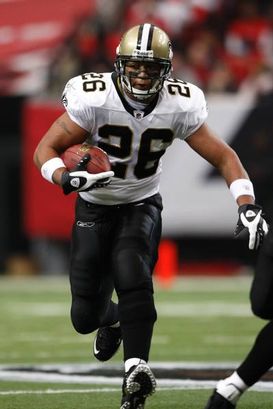 A few failed investments is all it took to send Deuce McAllister filing for bankruptcy.
I know most people have a hard time understanding why pro athletes struggle to start and maintain a second career. Trust me, it can be so difficult for these young men to do and here are the reasons why.
-Everything has always been given to them and done for them. Rarely did they have to do anything for themselves except perform on the field. From the college scholarship to the first five, six or seven figure NFL check. It came very easily which gives players the false idea that the rest of their lives will always work that way. Furthermore, there usually aren't too many people around to help them once their career is finished.
-After making millions, it's hard to grasp the concept of doing a job that pays less than 150k a year. The ego can easily get in the way of starting at the bottom.
-Playing pro football and growing up in locker rooms extends adolescence. Thus, players don't develop a good social skill set that allows them to be comfortable in the workplace or business world. Furthermore, no one is usually pressing on them to start a second career like a coach or trainer may press on them about getting better at football.
-NFL Players always think they have more time than they have. And before they know it, they are on the street, no plan in hand, caught off guard and waiting and wondering who is going to draft them into their company.
So in order to help my client, I am going to share my advice and look to you, football's most intelligent fan audience, to pitch in. Here are some details on my client: He has a degree in a communications type major. He's conservative with his money and already saves pretty well. He may not possess the patience in managing alot of people. He's not afraid of hard work but remember he is looking to build wealth while playing. He's in his mid-twenties and will probably play several more years.
Without playing financial advisor and offering specific investments, here are my philosophical pieces of advice I will start with:
1) Educate your self everyday. Start by reading the USA Today money section and graduate into the WSJ, magazines and maybe a dividend newsletter with a great track record. Get meetings with successful entrepreneurs in your team's community and in your hometown and pick their brain about how they accumulated wealth. They will be happy to meet with you.
2) Many people who choose a career don't always choose the lifestyle that goes with it. Be sure that a career, a financial venture and/or an investment match the lifestyle that you want for yourself.
3) Be the richest man in Babylon. The timeless classic written in 1926 is the probably the fundamental building block of building wealth. The basic principal is to have your money work in a way that it's always producing more money (above inflation of course). Then you put that money to work as well producing more money, so on and so on. Build wealth by investing in income producing vehicles.
4) Be a consultant. When IBM divested themselves of most of their hardware businesses they became a service company. They get paid for their advice. Become an expert at just one thing and charge people and companies for your expertise. It's a way to turn intangible knowledge into tangible income.
5) Find experts in real estate, franchises, dividend stocks, bonds, and other income producing investments. There are no guarantees that any investment will create wealth but there is enough information out there to limit your risk.
6) Look to dirty, boring, and non-sexy industries for opportunities. Most retiring players look to glamour industries for a second career such as broadcasting. However, most wealth building opportunities exist in the most mundane businesses. A former NFL player would be a welcomed and even celebrated figure in a blue-collar laden industry and could easily garner opportunities by leveraging his status as a former pro.
7) Find a business where you have the exclusive distribution and/or collection rights for a product or service.
Most of us know there is no magic formula for creating wealth. However, having 500k to a million or more in savings in your twenties can definitely offer a springboard to getting there faster than others.
I'm very proud of some my former clients: Tim Dwight is a partner in a solar power business and he is out to change the world, or at least the state of Iowa. Todd Rucci just got named the director of the Pennsylvania State Lottery after working in the financial services business for several years. Todd Washington is the assistant O-line coach of the Ravens and of course Matt Bowen is a legit journalist with a brilliant future. Even though these are careers and not wealth building strategies, the important thing is that all these guys love what they do and have their savings working hard for them while still bringing in an income. More importantly, they started laying the groundwork for their careers while they were still playing.
What advice do you have for my client?
Follow me on Twitter: @jackbechta