January 11, 2012 -
Jack Bechta
Building the Perfect NFL General Manager
This past October marked my 26th year as NFL agent so I have seen many GMs come and go. I have not done business with each and every one since my tenure but I have always made it a point to get to know them as intimately as I can. Some I have got to know better than others and I do observe with great detail their style, personality and methods in order to better serve my own clients.
Now that we are nearing the end of hiring and firing season and with the Moneyball movie still fresh in our minds, I thought it would be interesting to take a good look at the GM position.
Job Description
Wanted: Individual who can evaluate talent, work well with others, deal with the media, lead, manage, build and put together a winning and profitable blueprint for a billion dollar company. Note: if you did this job elsewhere with average results, you need not apply.
Today's GM is a bit different than yesterday's GM as they now work under a microscope for the world to see. Todays GM has more moving parts to deal with and a fan base that now has access to almost as much information on players and coaches as he does. The media has demystified this position and now every one thinks they can play GM.
The skill set needed:
Leadership: Any agent will tell you that we constantly hear scouts; personnel directors, players and coaches make fun of and talk about their own GM in a negative way. It's a way for these people to distance themselves from their boss when things are going wrong. A GM who has the ability to lead and command respect will get more out of his staff and be able to keep the ship sailing in stormy seas.
If you worked or played for the Colts, there was never any doubt who the leader was. Bill Polian was the captain of the ship and no one within the organization ever questioned his authority or decisions. However, leadership skills can only take you so far without a back-up quarterback plan.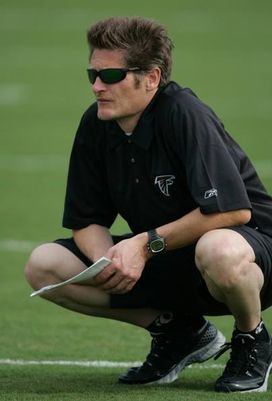 Thomas Dimitroff is a former scout and continues to have a hands on role in that department for the Falcons.
Evaluator of talent: No doubt, your number one skill set should be that of an evaluator of talent. Today's and yesterday's top GM's can recognize good players and coaches. Former GM's Ron Wolf/Packers, John Butler/Chargers, George Young/Giants, and Bobby Beathard/Redskins/Chargers all had an exceptional eye for talent. Ted Thompson/Packers, Kevin Colbert/Steelers, Scott Pioli/Chiefs, and Thomas Dimitroff are all former scouts who you can still find on the road and watching film almost everyday. Recent hires such as Reggie McKenzie/Raiders, John Schneider/Seahawks, Trent Baalke/49ers and Ryan Grigson/Colts all hail from the scouting side of the business.
The ability of a team to consistently keep their pipeline full of talent via the draft (best example are the Steelers) will always be guaranteed a high degree of success.
A Strong Personality: Imagine a job where you have to deal with personalities such as Bill Parcels, Mike Ditka, Rex Ryan, Jim Harbaugh, John Gruden, Bill Cowher, Jimmy Johnson, and Tom Coughlin. These guys are individuals who coach with passion and conviction. They are demanding and have strong opinions. A GM must have a personality that can work daily with other strong personalities without it spiraling into personal confrontations and power struggles. A GM has to be able to communicate effectively with all types of people and not wilt when being challenged. Dealing with demanding agents can take some metal as well.
AJ Smith/Chargers, Ozzie Newsome/Ravens, Bruce Allen/Redskins, and Buddy Nix of the Bills set clear boundaries for their team and make sure everyone's role is defined. Sometimes, too strong of a personality can alienate too many people and be a bad thing.
CONTINUE READING ON PAGE TWO ABOUT GMS