April 06, 2011 -
Jack Bechta
Can the Moneyball concept work in the NFL?
Believe it or not, cash spending by NFL teams on player contracts was actually up 6% in 2010 vs. 2009. It could be somewhat of an anomaly because teams were able to pay large base salaries without the limitations that go along with typical caps restraints. And even though owners pocketed over 420 million in 2010 by not having to fund players' benefits and pay restricted free agents, several teams took advantage of the cap-less year to lock up some of their best players.
As an agent, my job is to know who is spending on players and who's not. Most veteran agents can usually predict which teams will retain their client on a second or third contract based on their past spending habits. It still amazes me that many teams are still run like mom and pop shops whose owners still sign all the checks. The bottom line is that identifying, drafting, developing and retaining great players will always translate into winning seasons.
Lets take a look at who's spending and who's playing moneyball.
Top 5 cash spenders in 2010 Bottom 5 cash spenders in 2010
Packers: 10-6 / (4-0) Cardinals: 5-11
Patriots: 14-2 / (0-1) Buccaneers: 10-6
Redskins: 6-10 Panthers: 2-14
Lions: 6-10 Bengals: 4-12
Saints: 11-5 / (0-1) Jaguars: 8-8
2009
Top 5 in cash spending Bottom 5 cash spenders
Giants: 8-8 Chiefs: 4-12
Dolphins: 7-9 Bucs: 3-13
Raiders: 5-11 Bengals: 10-6 / (0-1) Saints: 13-3 / (3-0) Seahawks: 5-11
Chargers: 13-3 / (0-1) Browns: 5-11
On average, over the last 5 years, the Cowboys (48-32) have been the leader in cash outlay for players. Followed by the; Redskins (32-48), Seahawks (35-45), Colts (61-19), Chargers (55-25) Steelers (51-29), and the Vikings (42-38).
The consistent bottom dwellers in spending since 2005 have been the Titans (45-35), Bengals (33-46-1), Bills (31-49), Jags (39-41), Bucs (35-45), Chiefs (29-51) and Falcons (44-36).
So what does all this mean?
It's obvious that for the owners who are keeping a tight grip on their war chest that the moneyball (or playing the cheapo method) concept is not working. However, spending wildly on the most expensive players in free agency is also not a guaranteed method for winning championships.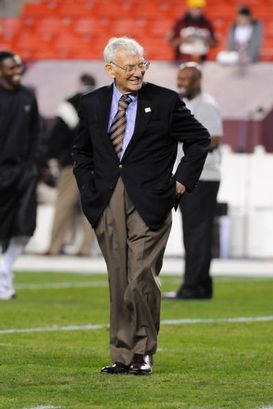 ICONDan Rooney and the Steelers have implemented a successful winning formula.
A few teams that jump out at me for having managed their cash extremely well are the Steelers, who averaged 6th in cash spending over the last 5 years and were somewhere in the middle of the entire league last year. There's no doubt that the Rooney's can be credited for spending wisely and hiring great coaches, keeping autonomy with their scouting staff and drafting with uncanny accuracy.
The Eagles have also done a good job in that they average in the top 15 in spending over the last 5 years, but not the top five, they produce winning seasons. Once again, stability of their coaching staff can be credited for getting the most out of their players. The Ravens have also been in the top ten in expenditures as of late and have seemed to regain their winning ways.
One team that seems to never get enough credit for their formula is the Saints. Their GM, Mickey Loomis, has an accounting background and understands "value" when it comes to players. He outbid everyone for Drew Brees' services but didn't over pay. He works surgically but with frugality in singing free agents such as, Vilma, Shockey, Greer and Darren Sharper. They also seem to do well by developing undrafted free agents and late round picks.
Another team that has been most impressive of late is the Falcons. They have averaged in the bottom 7 in cash expenditures over the last 5 years, have produced a record of 44-36, and have built a talented team that should compete for the NFC championship for years to come. Thomas Dimitroff and company have built this team through the draft by hitting on some great players such as Matt Ryan. It also seems that Scott Pioli and staff have turned things around in Kansas City with his 2010 draft class which made a huge impact on the outcome of their 2010 season. They to can be poised for a long winning run with another successful draft.
It's obvious that's the Patriots/Bilichick front office formula is starting to take root in the league and is spreading quickly. Eventually, these teams will have to start spending to keep their top players. That is the price a team should pay for drafting well. But if they keep drafting well and developing players they still wont necessarily have to be in the top 5 each and every year in cash expenditures. It also points to Nick Casario, Director of Player Personnel for the Patriots, and Les Snead of the Falcons being high on owners' GM short list.
The bottom line is that; intangible management methods that produce effective scouting and coaching staffs reign supreme in building a winning organization. Owners who are willing to let go of the mom and pop attitude and hire good football people with a solid plan will be successful. They will also have to spend and invest to retain their best coaches, scouts and players.
As an agent, I'm always hoping and working towards my players being drafted by teams that have stability in the their front office and with their coaching staffs, and who will patiently develop young players and are not scared to pay the market price for their second contract.
Follow me on Twitter: @jackbechta