January 25, 2012 -
Jack Bechta
Did Andrew Luck just change the agent business?
About thirteen months ago, I asked someone very close to Andrew Luck and his family what they were going to do about entering the draft early and selecting an agent. The reply to my question was summed up in five words; "The Luck's have a plan". Most likely their plan was to play their hand close to the vest, listen to a few options but make no commitments, and keep it in the family.
I personally took a shot at representing Andrew but I was respectfully told that my services would not be needed. It was obvious from other agents I spoke with that also took a run at representing Andrew that there was indeed a plan already in place.
Andrew Luck will be represented by his uncle, Will Wilson, who passed the NFL certification exam in in 2010. He is an attorney who teamed with Wasserman Media group out of Los Angeles, CA. He does have a lot of experience in the sports industry but any agent will tell you that nothing can prepare you for doing business with the 32 NFL ruling families and their gatekeepers.
That's right, Luck, who is considered the prize draft pick of the decade, will be represented by a newbie, beginner, virgin, start-up, rookie, freshman, and first-time NFL agent. Call him what you want but he is now the envy of the sport representation industry. Many agents are quietly skeptical and critical of Andrew's decision. Some agents I spoke to at the Senior Bowl practices this week are even calling it a foolish move. On the marketing front, Andrew will be represented by Wasserman Media Group who is most known for its work in the action sports arena of skating, snowboarding, motor-cross and their recent acquisition of SFX Golf.
I, for one, applaud his moves. I don't have detailed knowledge of what motivated Andrew to go in this direction but by connecting the dots, I have a good idea of what the thought process may have been. I had predicted back in June of 2011, that the new rules in the CBA could level the playing field for agents. The Luck's may be starting a new trend that may be opening the door for a wave of less experienced agents.
Why a beginner can get the rookie deal done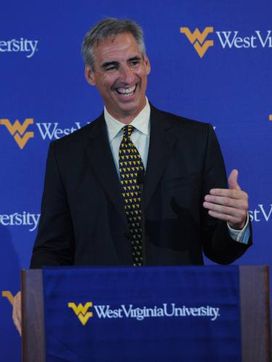 Oliver Luck, Andrew's father, is the key to ensuring his success.
One of the reasons I write about my industry is to demystify the business and pull the veil back so young players and their families can make educated and informed decisions. Getting an NFL contract done does take some expertise, some mettle, some experience (helps to have a relationships with team execs), and a deep understanding of the new CBA. A smart, focused and competent individual can get a top rookie deal done with hand holding from the NFL Players Union.
The Union will have incentive to make sure that the first overall pick/slot is thoroughly maxed out as it will affect every other pick in the draft. With less moving parts and even less monies available for top ten picks under the new CBA, the first overall pick (assuming it is Andrew) could be completed by summer as if done by a veteran agent.
A special circumstance
The X factor in this deal is Oliver Luck. Currently the AD at West Virginia, Oliver played in the NFL, was an attorney and has relationships at every level of the NFL as well as the Players Union. As a former NFL player he understands the landscape on the deal making side and is most likely the anonymous backstop for Andrew's representation team. Not to be confused with a meddling father type, he is far from it. I am told he can step out of the father role and act as an unselfish, strictly business like confidant for Andrew. In other words, Oliver was most likely the compass in the agent decision-making process.
*Note: For all other players, if you don't have an Oliver Luck in your corner, please don't try this with your career.
CONTINUE READING ABOUT ANDREW LUCK ON PAGE TWO...