November 16, 2011 -
Barry Dorey
Did Joe Pa have too much power?
While getting some details from both public and private sources of the arrogance exercised by one of my childhood heroes, Joe Paterno, one of my favorite movies came to mind: Shawshank Redemption. If you haven't seen it; a renegade prison warden runs his prison by his own self serving rules, where everyone who works in the prison is scared to death of crossing him and answers to him as the ultimate authority.
Now I know this is an extreme analogy of the power a college football coach can have over a community, a campus and a program and I also know Joe is not the corrupt, selfish, mean-spirited character portrayed in Shawshank. But I do know that Joe Paterno was the ultimate authority at PSU, State College, PA, and of course the football program. Nobody in Happy Valley made a move without consulting with Joe first. Nobody would dare do anything that would offend him or challenge him. This man had way too much power and control, which made for an intimidating air in (not so) Happy Valley. So when McQueary went to Joe with news of what he saw in the locker room shower, in his mind, he was going to the ultimate authority in the land. Should he have done more upon witnessing the crime? Absolutely! No doubt! However, he ended up doing exactly what Joe would want him to do, protect the reputation of the program first above all else and report directly to him.
When you grow up in Pennsylvania as I did, you not only willingly drink the PSU kool-aid, you worship the man serving it. For me and many other PSU faithful, Joe Pa represented a moral compass, a standard of integrity and all that was right about college football.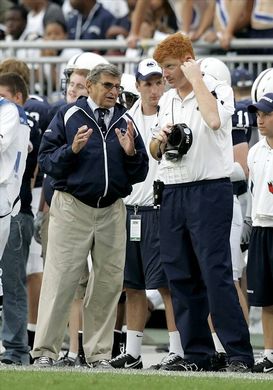 ICONUltimately, McQueary should have handled the situation better.
I represented a few PSU grads and they all speak of the football experience as something very special to them. My clients who played for Joe would grow to appreciate his tough love and his methods of turning adolescent boys into men. No one can argue that Joe and his staff did ten thousand or more amazing and wonderful things for PSU, the players, his coaches, the fans and countless others. These accomplishments should not be forgotten or overlooked. But the one decision he allegedly made to sweep the Sandusky scandal under the rug is sadly bigger than any and all of his accomplishments.
I am told there is another side to Joe that only those who have played for him know. A side that is somewhat hypocritical to what he preaches. He would sometimes crush the careers and hopes of young players who challenged him. He would cast players off who slipped up by not giving them a second chance and would forever tattoo them as inferior humans.
When embarrassing offenses arose with coaches and or administrators in the PSU program, Joe and his sergeants would not fire them but transfer them off his staff to a position in the shadows of the athletic department. He did not want to bring attention to a blemish on the pristine reputation of the program. I was told he would ignore orders and requests from the people who were his superiors. His power and reign was that of a Caesar, who was supposed to answer to a senate, but since he controlled the army (the cash producing football program) he controlled the Holy Roman Empire. Joe gained so much power that there was nobody in college football, the state of Pennsylvania or even the NCAA that had the courage to challenge him, fire him or question him.
So if all that I say here is confirmed and true (which we are not 100% sure it is yet), then its evident the current system needs more eyes, accountability, and checks and balances. It also needs a stronger and higher authority who is not conflicted by the massive amounts of money pouring into the vaults of the NCAA, the conferences and member universities. Although the PSU scandal is an extreme situation, it is still an example that the power, the economics and the environment needs an outside layer of authority to keep the Caesars in line, to protect the players' rights, keep the playing field fair and keep the beautiful tradition of college football intact.
After spending four days in Pennsylvania last week and talking to many PSU alums, fans and even former players, I can attest that they are still very hurt, conflicted and emotional about the situation. I can also attest that they are fair minded, want justice and truth. They will stick together through this painful ordeal and come out of it even stronger together and will help to rebuild an even better PSU program.
Follow me on Twitter: @jackbechta