November 04, 2010 -
Jack Bechta
Diplomacy can buy vets extra years
I heard that Bill Parcells told his people at the conclusion of last season; "any player over the age of thirty most likely won't be playing for the Dolphins". There are only 4 players older than 30 currently on their roster, and one is the long snapper. In comparison the Patriots have 12. Older players have a higher risk for injury and usually get old faster in the off season. Older players also come with higher salaries as well, including higher minimums. So for some GMs, it's a simple philosophy, go young and go cheap. For others it's; "give me the best guys available regardless of age."
Once an NFL player hits the tender age of 33, most people start to look at them differently. If they get beat, they say "he's lost a step". If he gets hurt, they say he is "breaking down". If he misses a few games it's easy to write them off.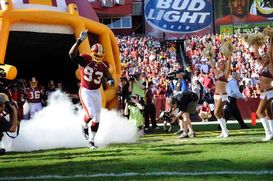 At 37, Phillip Daniels recently won the Ed Block Courage Award and is active in the community
So what can a vet do in the back end of his career to play an extra few years?
Attend the off season program: When players are seen working out and studying film by their owner, management, and coaches, it makes it harder to release that player. On the contrary, if older vets are always first to leave and last to arrive, and don't participate in the off season program, they are out of sight and out of mind. And usually, out on the street. Coaches and front office types clock anywhere from 60 to 80 hours a week during the season and 40 to 60 in the off season. Therefore, they appreciate it when players put in extra time working out or studying film. To hear that they are doing it is one thing, but to see them is another. Seeing is believing.
Become a community icon: Owners appreciate players who immerse themselves into the community. If the owner loves you, so will everybody else. No GM wants to cut the owners favorite player.
Be a leader: If a player cares about the harmony in the locker room and his presence helps to make it a stable environment, teams may keep him around for that reason alone. Helping out young guys can also buy a vet an extra year or two.
Decelerate your base contract: One of the biggest disservices that a lot agents do to their clients is put what I call, "window dressing numbers", in the back end of their deal so to inflate the value of the deal for the media and other players. It's typical to see veterans' base salaries accelerate to an amount of $6 or $7 million dollars per season when a player is turning 34 or older.
When I did Al Harris' last extension, I started declining the base to lower numbers so I wouldn't price him out of the league. The Packers were initially caught off guard by this request but gladly accepted the idea. Thus, only his performance can get him fired, not his contract.
When vets stop showing up in the off season, pop off to the media, and bring unnecessary attention to themselves and their team, they may be cheating themselves out of 2 or 3 years on the back end of their careers. Those vets who utilize diplomacy are likely to remain in the league for those few extra years.
Follow me on Twitter: @jackbechta