April 11, 2012 -
Jack Bechta
Does your GM run an efficient scouting department?
One of the biggest frustrations I hear from regional NFL scouts is how their opinion and their work gets minimized the closer we get to the draft. It's not like this in every organization but it exists within several for sure.
Area scouts spend months even years collecting data and intelligence on players in their region just to have it become under-appreciated in April. One NFC scout told me the other day that he "gets paid $85,000 to work and travel like a dog to get his opinion diluted by people with bigger titles and even bigger egos". Another said, "I wrote 300 reports that will be referenced a few times and won't get the attention they deserve".
From the personnel people I spoke to around the league, there are still a handful of organizations that still work in an archaic manner. So in a time where draft picks are worth more than ever before why is this so?
Here are a few reasons why some scouting departments are still dysfunctional.
Lack of trust: Some regional scouts are not even allowed in the war room because the GM may not trust them enough to keep their player rankings secret. This is absolutely absurd but I can see why this could happen. Many area scouts from competing teams grow very close to each other on the road and go as far as to share reports and cover for each other at pro days that one can make and the other can not. It's not uncommon to see two scouts from different teams in the same division getting beers together at the Combine or Senior Bowl bitching about their bosses and sharing opinions on players. When I asked two different GMs about it, one said, "That's just how it has to get done sometimes". The other said he "better not catch one of his scouts operating like that".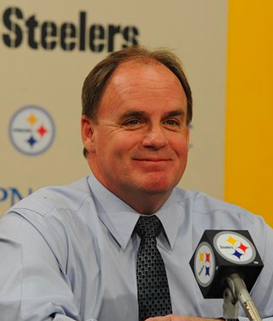 Kevin Colbert's staff has had more draft success than most NFL teams.
Teams that build unity and trust within their scouting staff will have more congruency going into the draft than others and will most likely have more success. The majority of NFL teams have a very well orchestrated drafting process that puts area scouts, directors and coaches all on the same exact page. There is a solid system in place with many teams!
Out of sight and out of mind: Some area scouts may be in the office, not counting camp, only two to three weeks out of the entire year. The coaches and even the GM really don't get to know the individuals and the depth of his skill set. The GM making the final call on a pick may yield to the opinion of the position coach rather the regional scout who has been evaluating the player since his freshman year. I was talking to an SEC area scout back in January and he hadn't talked to his GM in 3 months. I don't think that is a good thing.
Scared to have an opinion: Scouting jobs, as demanding as they are, are coveted and sought after positions. Most regional scouts I have met are passive in nature and fear at times about having to strong of opinion. They fear that if they really go to bat for a player to be drafted and he doesn't pan out they will be out of a job. So they remain a data collector with modest opinions and just play it safe. As one NFC South GM put it to me, "I have to continually scout and evaluate my scouts. Some guys are good at evaluating O-lineman, others are not".
CONTINUE READING ON PAGE TWO...