August 05, 2010 -
Jack Bechta
Don't believe everything ESPN tells you
When I got on the treadmill yesterday, I saw ESPN leading with the Favre exclusive with reporter Ed Werder. My first thought was, "Wow, good for Ed. I know Brett tries to avoid the media at this time of year, so he must've done some serious hustling." However, once I saw the interview with Brett sitting in his truck, the diesel engines loudly rumbling, while he gave three one-word answers to a struggling ESPN reporter, I thought to myself, "They got me."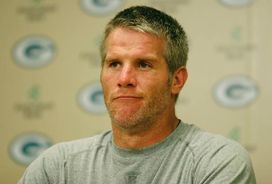 ICONFavre's annual retirement decision usually results in stories getting blown out of proportion.
This was nothing new; they sensationalized the lead-in to what was nothing more than Brett trying to make a quick exit. Great effort by Ed but not worth waiting for, and I learned nothing new. Furthermore, the whole motivation to chase down Brett for an interview was based on these nuggets:
Tom Pelissero of ESPN 1500 tweets: "Can't confirm, so take with salt, but there is strong buzz here that Brett Favre has told the Vikings today he's staying retired."
Judd Zulgad of the Minneapolis Star Tribune tweets: "Vikings ownership and other power brokers just held meeting on sidelines here. Looked very intense. Favre related?"
I'm not picking on ESPN here, just going to pull the curtain back and help you judge everything you read and hear from the major media outlets.
I'm here to tell you that a good portion of what you hear through the media, especially this time of year, is put out by teams, players, and agents. In the new media age, where competition for information is downright warfare, the large multimedia companies are most susceptible to getting used. They are also the best at yanking your chain, as they say in Wisconsin.
Now that FOX, ESPN, CBS and several other large companies are in business with the NFL, they won't always fairly report on them and their embarrassing issues.
The issue for a lot of local beat writers that cover individual teams is that to get complete access, they sometimes have to be a covert mouthpiece for the team. If they don't play nice, they may get the cold shoulder at practice and in the locker room. If they're good to the team, they get better access. But if they cause problems, they may lose their privileges.
When a team or agent wants to get their position out on a player, a contract, or a hot issue, they call a friendly reporter. I was once in a contest at the 2007 Combine with two other agents and an active personnel director, where we bet dinner on who could get their propaganda out the quickest to ESPN or the NFL Network. I won! In three minutes, I had my top free agent heading to an NFC South team. Thanks to the NFL scoop jockey who picked it up! One of the other agents had his self-serving text running across the ESPN tape in about six minutes.
I think hardcore fans are losing faith in big media. They can only be jerked around and misled so many times before they move on. Devoted fans have a better idea of what's going with their team than the major media outlets do. National and local bloggers are emerging as a trusted source of intelligence and are nipping away at digital and TV market share. As evidence of this, Comcast recently purchased The700Level.com to be their Eagles source for news and rumors.
In 2001, when Tim Dwight was traded to the Chargers as part as the Michael Vick pick, the first outlet to have it (even before I knew) was a young blogger out of Iowa. I still don't know how he got it.
I do have to acknowledge that certain individuals like Tony Dungy, Troy Aikman, and many of those who have actually earned pelts in the industry rarely get misled. However, these guys aren't scoop jockeys, either. FOX's Jay Glazer does his homework, is too secure to be used and is well-liked by NFL brass and players. Mort is still very well respected, but his peer group is dying out and the mother ship pushes him to report scoop prematurely, before he can get it verified.
Many agents and players are bypassing the media all together and using social media outlets like Twitter to talk directly to the world. Therefore, ESPN has to rely more on T.O., Brett, Rex, Chad, Albert, and the other NFL entertainers to keep delivering drama to keep their daytime soap operas popular.
Who do you trust?
Follow me on Twitter: @jackbechta
Ready for fantasy football? Click here to purchase the 2010 Total Access Pass/Draft Guide from the NFP.