January 27, 2011 -
Jack Bechta
Don't overrate the Senior Bowl
For any NFL draft prospect, being at the Senior Bowl, or not being at the Senior Bowl won't make or break a players' career. The Senior Bowl is getting a lot of attention this week but it's not the Holy Grail of the evaluation process. It is however just one small, but important component of the evaluation process. All in all there may be a total of about 10 to 12 players that the Senior Bowl helps, or hurts. Furthermore, what does get affected is a players' draft value not his overall opportunity.
Who does it help the most?
The players who benefit the most are usually small school players who get to compete against the big school boys. It's their chance to show scouts that they can do it against the best of the best. It's an opportunity for evaluators to see how those players can compete against a higher level of competition. The Senior Bowl provides a stage for these players to show that they may belong.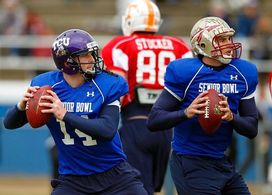 ICONPlayers contend for the scout's eye in Mobile.
Quarterbacks are also big benefactors as it's a chance to make a good first impression on coaches who never may have seen them before. The coaches will tend to judge players without bias because they have not yet scouted the players. Many head coaches and offensive coordinators have a big say as to who they would prefer come draft day.
Many general managers have told me that by this point in the evaluation process they use the Senior Bowl as a confirmation tool of their current opinion. It's also part of the discovery process to start collecting personal data on players through a one on one meeting/interview.
There's no doubt that there are usually a handful of players who "jump out" at the evaluators by flashing superior speed, quickness or by making several noticeable plays. However, when it's all said and done, there are only 5 or 6 players who rise significantly and 5 or 6 who may fall just a bit. The rest of the pack may get reshuffled a bit as the Senior Bowl helps evaluators rank prospects against one another and thus an order start to take shape.
This is the time of year that everyone is a draft expert. And I do mean everyone. I have had several NFL reporters come up to me to tell me their opinion on where my clients' stock is headed based on his performance here in Mobile. The irony is that those same reporters are walking around the practices talking the whole time without really watching practice. Furthermore, many of them have never seen many of the players ever play before until this week, but they are firing off opinions for mass public consumption.
The bottom line is this, don't believe everything you read or hear coming out of Mobile this week. For the most part, 80% of the play here will be forgotten by NFL evaluators and the focus will shift to the Combine. I actually I had one NFC GM tell me that he has never watched a Senior Bowl game live or via tape in 25 years of scouting. His reasoning is that he doesn't want to judge a player based off of one week of practice where players are playing with each other for the first time. He said he does want to gather more intel on players but he tells his staff not to kill or glorify players based on one week of an all-star practice.
So as the sensationalist opinions start pouring through the internet and TV outlets, please remember that the process will flatten out and the majority of players here did not jump or fall two or three rounds.
Follow me on Twitter: @jackbechta